Info on 70-215
A handy person from Missouri says:
October 30, 2012
What is the distance between the centers of the 2 holes in the part? I need 1 inch, but I suspect it is less.

Gary
Tom from SWISCO responded:

November 2, 2012

Thanks for posting, Gary. The distance between the hole centers of the

70-215

is approximately 3/4". Could we perhaps see a few pictures of your own clamp? This may help us find a replacement.
A quick learner from Kansas City says:
November 2, 2012
Well, that's the thing... this is a 20 yr old door, original install on the house, manufacturer unknown (no documents, no name plate or stamp on the door). This is gonna be a wordy response... sorry about that....
It had a weather-strip type of retaining mechanism (not sure what the technical name is for that). I took the strips out this past spring to put in a screen for the summer (had just purchased the house and previous owner had never done this), and, because the strips were dried out, they wouldn't go back in securely anymore.
I bought some spring clips at Lowes (http://www.lowes.com/pd_81940-15369-71458_0__?productId=3108815&Ntt=screens&Ns=p_product_price|0), which was enough to hold the light screen door in place most of the time, but isn't strong enough for a glass storm window. And I have gone to a place here in KC, All About Windows and Doors, where they have almost every old part you can think of, but they didn't have this kind of retention strip.
So I've been hunting for some kind of clip to install into the door frame, and
70-215
would be perfect ... but it needs to be 1", center to center.
I've attached 2 photos of the door. The right side doesn't show the channel as well as the left side image. The white part next to the screen is, of course the frame of the screen (and similar to what is around the storm window), then there is the darker strip channel, then another white part which is the door frame. the latter is about 1/2 inch "above" the screen frame, and the the horizontal distance from the minimum point where a screen could go in to the door frame and still have the other end of the clip hit the screen frame is 1 inch.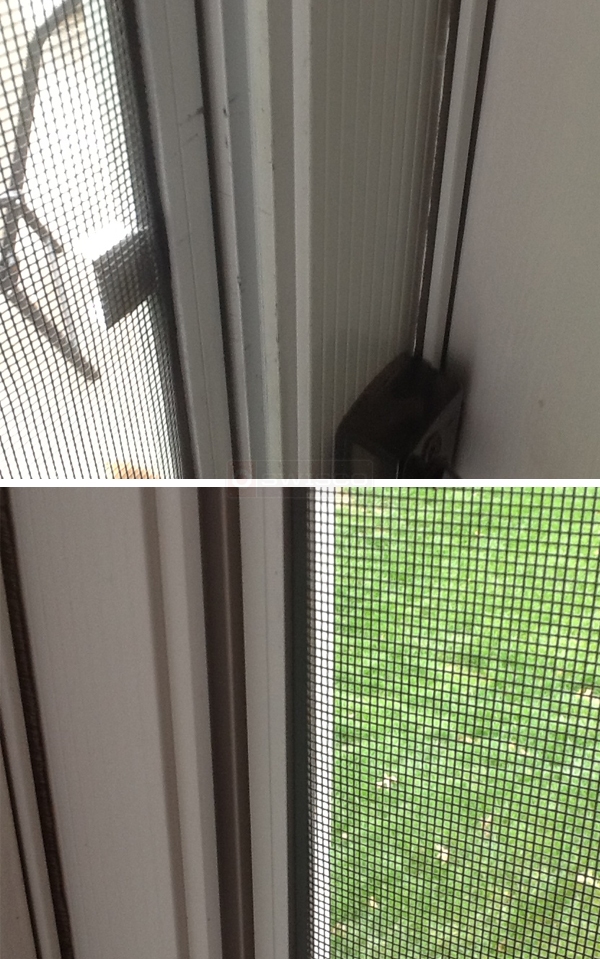 Dave Sr. from SWISCO responded:

November 6, 2012

I see that your door main frame has a few steps in it. Could you install the

70-215

to a lower step?
A quick learner from Kansas City says:
November 6, 2012
I have considered that, but that lower step you see seems pretty thin to me, and I'm not confident it will hold the screw when the wind is blowing and putting pressure on the storm window. That may be an option... I'm still considering it.

Thanks
A quick learner from Kansas City says:
November 6, 2012
I've gone ahead and placed an order for these clamps. I think I can make them work. Here's hoping...
Tom from SWISCO responded:

November 6, 2012

Thanks for getting back to us! Please let us know as soon as you try them out. I'm sure this information will help others in the future.
A quick learner from Kansas City says:
December 19, 2012
I wanted to allow the clips to be in place for a few weeks before I got back to you on their performance, so that they had a chance to be tested against wind. They were just long enough horizontally to secure to the door frame and still reach the window frame to hold it. And so far they are holding the storm window in place quite well.

Thanks.
Tom from SWISCO responded:

December 19, 2012

Great news! Glad to hear that everything is working out for you.