JASON Screen door hardware
A home owner from Schoharie Co, NY says:
July 18, 2011
Hi, These screen doors are installed in an indoor pool environment (high
humidity at times). On the door handles it gives the name JASON.
Questions: Like to replace upper and lower rollers on two such doors. Are both the upper and the lower rollers spring loaded? If so, how do they get adjusted?
Do you have the recessed door handles for both doors since they have to clear the sliding glass door handles on the outside?
Any help is greatly appreciated
Juergen S.
P.S. The rollers are approx. 3/8" wide
Mike from SWISCO responded:

July 19, 2011

Good Morning,

I am sorry, we cannot identify your hardware via the name "JASON". Can you submit some pictures of your rollers and handle? We should be able to help you choose replacement hardware based on your pictures.
A quick learner says:
July 20, 2011
Hello,
I'll try to attach 2 pics. Don't know if it works.
Checking your catalog I come up with Rocker Roller 1" Nylon wheel Part #
84-002
. Are these being used on the top and bottom? What is the proper way to adjust them? Will the screws #
84-502
fit these?
Should I use any kind of lube? Is the tab on the end of the roller assy (with the threaded hole) supposed to be bent or straight?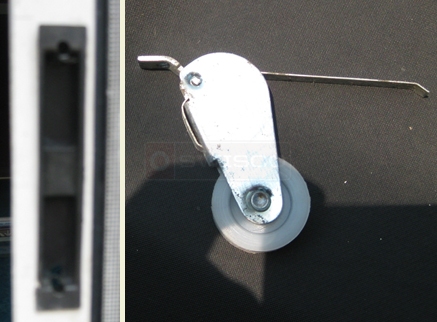 Mike from SWISCO responded:

July 21, 2011

Yes, the roller is used for both the top and bottom. You may have to use your original adjustment screws. The screw bracket on the end should be straight. You can use a silicone-based spray or the

75-077

track lubricant.