Rollers for a Jeld Wen screen door
A handy person from Cedar Rapids, IA says:
August 21, 2011
I was informed by Menards that Jeld-Wen doesn't sell parts and stumbled across your website. The roller I have is metal instead of plastic, but the shaft (plastic) ears that catch on the roller assembly have worn out. 1) will this replacement work 2) can I just get the plastic shaft inserts? The wheel is in good shape.

Thanks!
Mike from SWISCO responded:

August 22, 2011

The only part that is plastic of the

84-016

roller assembly is the actual wheel. Everything else is metal so I am not sure exactly what you part you are referring to as the plastic shaft inserts. Can you submit a couple photos of your Jeld Wen roller assembly?
A quick learner says:
August 22, 2011
Actually the wheel on mine is metal, the only plastic is the shaft that holds the wheel to the frame.
Here's a picture without the plastic shaft. Both upper and lower wheels are metal.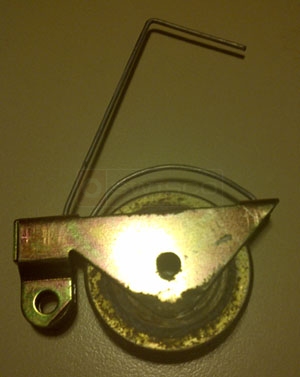 Mike from SWISCO responded:

August 23, 2011

Currently we have this style roller with a nylon wheel and a metal housing (see

84-016

) or a nylon wheel and a stainless steel housing (see 84-101).

We are bringing in a new combination that will be available soon. This combination will have a metal wheel and a metal housing. I will update this discussion when this combination is ready for purchase.

The axle is not available separately.
A quick learner from s says:
August 23, 2011
do you know if the plastic wheel will work? I could probably put them on top. it's still a pretty light door, although the door is vinyl and wasn't sure if that was the reason it was a metal wheel.
Mike from SWISCO responded:

August 24, 2011

Yes, the plastic wheel should work. This is a popular roller and we have not received any complaints. We are bringing in this style with a metal wheel if you would rather wait.
A handy person from boulder city, nv says:
August 28, 2011
I have the same type roller. My problem is the frame itself. The slot that this roller assembly fits in had some type of plastic holder that either wore out or broke off. Therefore, I'm left with an empty hole with nothing to hold the assembly, Any idea how to find a replacement?
Mike from SWISCO responded:

August 29, 2011

Can you submit a photo of one of your good rollers so we can get an idea of what you need?
A home owner from southern california says:
April 5, 2013
I keep reading this same question over and over and no one seems to understand what everyone is talking about! the piece that the wheel housing actually ATTACHES TO in the door frame, is what is broken off. after asking this same question on various sites...I think I have figured out myself that what we all need is a new "corner". but even when others have figured this part out, no one seems to know how to open up the screen frame to pull out the broken "corner"...and replace it with a new one.
Paul from SWISCO responded:

April 8, 2013

Thanks for contacting us! The corner key for your patio screen door might be our

95-020

. Take a look and see if you think it's a match.

To replace the broken key, you will first have to remove the screen wire and then loosen the adjustment screw located on the side of door. Then, to loosen roller, turn the screw counter clock wise maybe five turns. With a rubber mallet, tap the screen frame to remove the corner and roller. Simply reverse this process in order to put door back together.

I hope this information has helped!