Kinco tilt window balances
A home owner from Cocoa, FL says:
December 15, 2015
I have two different size tilt windows I need balance repair on. Window Manufacture Kinco, LTD (out of business). On the larger of the 2 windows I can see loose string on both sides of the balances. 30" long stamped 2940 cBSI. I tilt the sash and and try to pull it out, it will not budge, I assume I need to remove or loosen the screws from the bottom of the sash frame. This is a heavy window and with the balance broken, it will not stay up and the window locks are on the bottom. I would like to pull out the balances, but can not get the sash out and I do not see any screws holding the balances in. First off I would like to know how to remove the sash so I can take some pics and send it to you. Thank You, John
A home owner from Cocoa, FL says:
December 15, 2015
Tag on window

Paul from SWISCO responded:

December 17, 2015

Thanks for posting. I'm not sure what the issue is, but see if you can raise the sash and have someone hold it up for you while you look underneath. There might be a screw holding the tilt bar to the sash. If so, loosen the screw and slide the tilt bar out of the cam, then tilt in the sash and try to remove it.
A quick learner from Cocoa, FL says:
December 21, 2015
Okay I finally got the sash out. A balance picture(s) attached, can you please identify series type.
30" Long
appears to be 9/16" wide
appears to be 5/8" deap
2940 stamped
I also need pivot bars for sash but I have identified those and they are in my shopping cart on this site.
Thank you.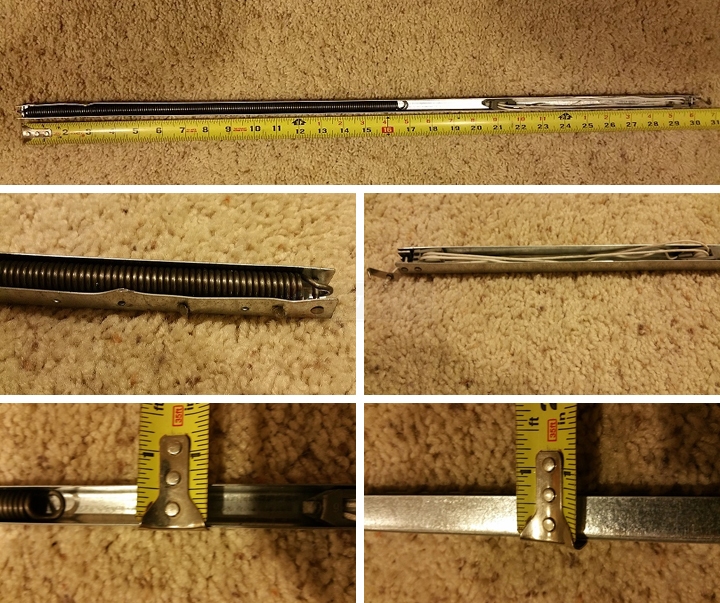 Tom from SWISCO responded:

December 22, 2015

Thank you! Yes, we can help with this balance. We will have to custom make it, though, since yours isn't made anymore. The thing is, the manufacturer has since overhauled how they designate stamp options. Your 2940 may not be the same as our 2940. Before we start on anything, can you just give me the weight of your sash? That will allow us to confirm whether a 2940 option will work, and if not, what could. Thanks!