Mepla Hinge 511.243.01.92 also 698.248.59.00
A quick learner from USA says:
March 1, 2018
Hi my cabinet hinges need to be replaced and it's like looking for a needle in a haystack!
I have attached some photographs of the precise hinges that I need 6 of. I saw one on eBay recently, but I need 6.
Thanks for your help!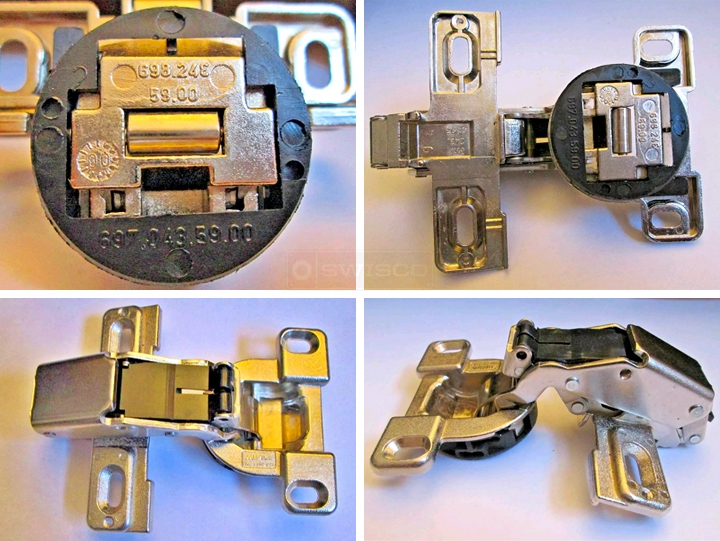 Dave Sr. from SWISCO responded:

March 6, 2018

I don't believe Mepla hinges are still available. Take a look at the

32-349

hinge to see if you can adapt this hinge to your cabinet. You might need to install new holes to mount the hinge, but what do you think?
A handy person from New Canaan, CT says:
March 13, 2020
I have the exact same hinge, and could use 3 more for replacement purposes. I was noting that
32-349
has a 1/2" overlay. I have a 1" overlay. What hinge can I use for a replacement?
Dave Sr. from SWISCO responded:

March 18, 2020

Take a look at the 32-353 edge mount hinge with the 1/2" overlay. This doesn't have the same two hole mounting bracket like the one you show in your photos, but it does have the newer style mounting bracket with one mounting hole for a screw. It also has an adjustment to screw to move the hinge to adjust it up or down. The hinge you have you would need to loosen up both mounting screws to adjust the door. Take a look to see if you think this could work on your cabinets.
A handy person from New Canaan, CT says:
March 18, 2020
What does it means 1/8" door protrusion?

Also, my door screws are 1 7/8" apart. I assume this means that I will needs to fill all the screw holes and try setting them again??

How much of an issue is the 1" versus 1/2" overlay difference?

Dave Sr. from SWISCO responded:

March 24, 2020

The 1/8" described is the clearance between the door and the cabinet. Take a look at the related diagram of the 32-353.

You will need to keep the over lap the same or else the door will change the location and it will not line up properly with the cabinet.

As for the mounting holes, the 32-353 is a newer style hinge with just the one hole for mounting. I have replaced hinges on my kitchen cabinets at home a few times. The last time I replaced the hinges I had to putty in the old mounting holes, like you described.

What you should do to be sure the 32-353 hinges do in fact line up with your cabinets is to install the hinge onto the door and set it at the location were you will be installing them. That way you will see if the overlap and mounting bracket will work on your cabinet.