Milgard non tilting balancers, 1/2" wide
A home owner from California says:
May 6, 2013
The windows I believe are Aluminum and either were installed around 1987, when house was built or 1999 ( I saw that date on some of the windows), which could be just the window panes changed and not necessarily the whole windows themselves
The balancers are of two lengths 18" has a side stamp (17 3), 21" has a side stamp (20 4)
When looking at the pictures online I believe they are either a
series 380
or series 385, would like help in choosing which one to get (please see attached photos)
Thanks in advance
Ed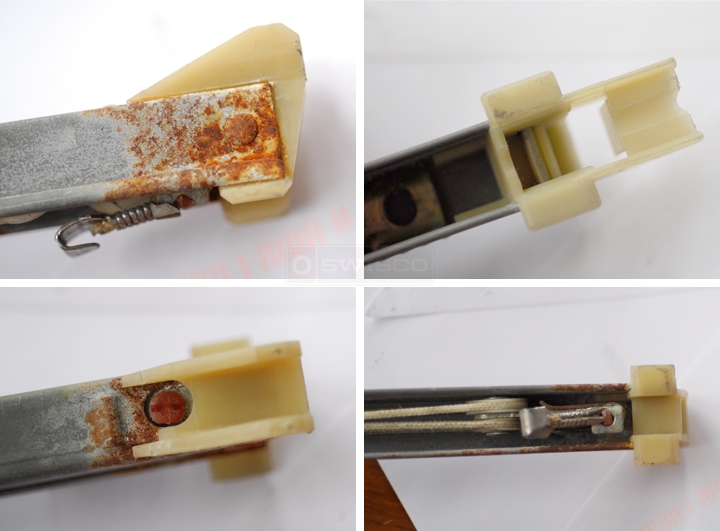 Tom from SWISCO responded:

May 8, 2013
A quick learner says:
May 9, 2013
Hi Tom

Thanks for the reply

I believe they are the
15-004. 1 3/32"

Any insite into what the side markings may mean?

Thanks

Ed
Tom from SWISCO responded:

May 9, 2013

Great. If the shoe is the

15-005

, then you're looking at a

Series 385

channel balance.

The stamps are indicative of the strength of your two balances working together. They usually correspond to the options listed on our site -- in your case, I'd recommend a 1730 option and a 2040 option. However, you might want to weigh your window sash and compare that weight to the ranges listed for each option just in case.
A home owner says:
May 10, 2013
Thanks for the advice. I went ahead and ordered a set of each to make sure I have the right size. If they fit I can go ahead and order the rest.

Should I be doing anything else for these windows while I am replacing the balancers, such as changing weatherstripping or cleaning some how?

Thanks again

Ed
Tom from SWISCO responded:

May 13, 2013

Great! Let us know if they work out.

If your weatherstripping is in good condition, there's no reason to replace that. Cleaning the window jamb while the sash is out certainly can't hurt. You might also want to give the windows a good once-over just to make sure everything appears to be in working condition. Check out our video on how to replace this type of balance to see what hardware you should keep an eye out for.