Need for door replacement rollers.
A contractor from Greenwood, SC says:
April 16, 2015
Do no thave any model numbers on hardware or doors, so having difficulty identifying these. Do you have a replacement that would work, based on my submitted pictures? These rollers are held in place to the door only by the extended plastic tab, through which one screw goes that also holds together the corner of the door frame. Otherwise, the roller is held in place by its fit into door bottom cavity. PLEASE HELP!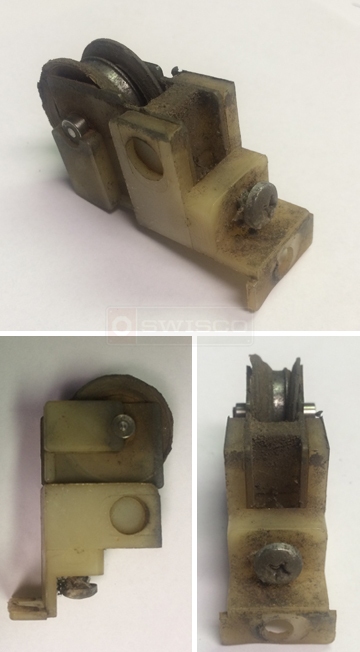 Paul from SWISCO responded:

April 16, 2015

This is very strange. Is this for a screen or glass sliding door? Can you also give us detailed dimensions? I would especially like the diameter of the wheel. Finally, do you know the name of the manufacturer at all? That would be a huge help for our search?
A contractor from Green says:
April 16, 2015
Paul,
My apologies! I had pictures with dimensions but sent you the ones from before dimensions were added. The roller mechanisms go in sliding glass doors in a house built in 1960. I am not certain they are original from that year, but nonetheless pretty old! mechanisms are in real good shape, except for the rollers themselves. Rollers are removable; problem is in that when you try to remove, the old nylon/plastic frame is too worn on inside of roller section, and will break.