Need to Identify my "26 5 HR CALDWELL." & "26 4 HR CALDWELL." market parts
A handy person from San Anselmo, Ca. says:
August 16, 2013
Hi,
I am trying to identify the window sash(es)for my girlfriend's window. I have come against a few unanswered questions during this process that I need help before ordering:
1. Attached are pictures of the ends of this 1/2" X 27" long sash.
Identifying numbers (printed or stamped in blue ink) of "26 5 HR
CALDWELL." The matching sash (which makes sense to additionally
replace the matching Sash at this time) has markings of "26 4 HR
CALDWELL."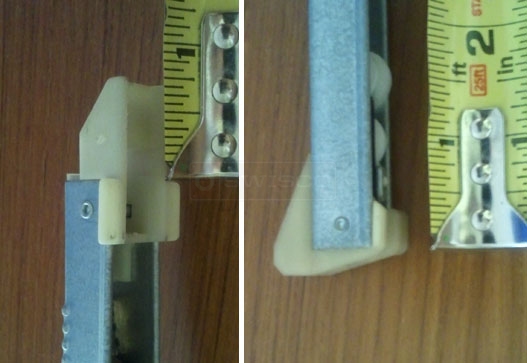 Tom from SWISCO responded:

August 19, 2013

Hey, thanks for posting. Looks like you only have one point on your list. That's okay, though, I'll try my best to identify what you have with the information given.

To start, these are actually known as window balances, not window sashes. The sash is the part of the window that actually moves up and down.

I've narrowed this down to two possible channel balance Series: either our

Series 380

or our

Series 385

balances.

Now, as you can see, there is only one difference between these two Series, and that is their bottom shoe. The

Series 380

uses the

15-005

while the

Series 385

uses the

15-004

. I can't quite tell what you have based on your pictures, though. Please carefully compare their dimensions to your own hardware and see which is a better match.

Can you also tell me if the two balances you mentioned are in the same window? They should have the same stamp. You might want to weigh your window sash and compare that weight to the option chart we show for each balance to determine which is the better selection. We do not recommend having two balances in the same window with a different stamp.
A handy person from San Anselmo, Ca. says:
February 4, 2014
I have finally responded to your initial analysis of what Window Balances fit the Window I'm trying to identify! Sorry for the extreme delay. Window is still out & new Tenant is very interested in this window working for the spring!
I did the measures as asked from Tom at SWISCO... Measuring the "Bottom Shoe" precisely looks like the
Series 385
is the CORRECT Bottom Shoe for our window...cuz the Back To Front measure of her purposed
15-004
Shoe is over 1" in depth ... Looks more like 1 1/16" but 1 3/32" could very much be possible in measure, instead of the 1 1/16" I'm estimating the measure to be.
Both window balances are from the same window & the numbers are once again "26 5 HR CALDWELL." & "26 4 HR CALDWELL." When I click on the 27" length option looks like the "option chart we (you) show for each balance" is
2640 19 to 26 lb
2650 26 to 30 lb
So someone before replaced these Window Balances possibly with different spring weights?
Does the 26 5 HR CALDWELL STAMPING correspond to 2650?? And the "26 4 HR CALDWELL" STAMPING correspond to 2640?? Would it be that wrong just order the Balance for the heavier duty spring set, or the 2650 (26 to 30 lb) out of the two part numbers?
Looking forward to wrapping this Window Dilemma Up. Please let me know if two "2650 26 to 30 lb" balances would work just fine.
Thanks for your help, Mark
Paul from SWISCO responded:

February 5, 2014

I'm glad you decide on the series 385-27, Mark. However, we don't recommend mixing two different spring weights on the same sash. I also don't recommend just deciding on one or the other without more information. I recommend that you weigh your window sash so that you know exactly which of our options would be best.
A handy person from San Anselmo Ca. says:
February 6, 2014
Paul,

So do u just put a scale within the window without any of the Window Sashes installed to get the weight of this Window Sash within the window Jam? Or do I take the window completely out & just put it on a scale to see if It's
Paul from SWISCO responded:

February 6, 2014

You will have to remove the sash and place it on a scale. Keep in mind that the sash is not the same as your balances. Those terms often get mixed up. The sash is the part of the window with the glass pane that moves up and down.