New Start
A quick learner from Maryland says:
March 22, 2014
I have several metal bifold closet doors in my apt but all of those hardware are old and not functional.

Is it a good idea to just use the whole new set of pivots and guide pins like your video showed, instead to find the match because some are lost and hard to match?

Which group are the best one to use?

Is the existing track fit the new pivot and guide pin if the diameters are same, or I have to use a new track?

Your tracks are all for metal bifold closet door, are they same as wood fold door track?

Can I cut the track into two: one for top, add another pin pivot bracket for the second for the bottom track as the opening is only 18" wide? Thanks.
Paul from SWISCO responded:

March 24, 2014

It depends. We may be able to match these pins for you. To get started, please send me photos of the rear side of door where the different pins are located and we will try to help you. I will also need pictures of your track.
A quick learner from Maryland says:
March 29, 2014
I am sending the pictures now.
I have the bi fold metal doors' name brand is Benchmark. I have some pivot pins and stationary pins. As I knew, each door use one stationary pin at bottom with panel against door jam, and 3 guide pins.
I do need bracket. But the new bracket does not fit the existing track. The some size is smaller than the new one even the new one marked for Benchmark. What I can do? trim the big part? how to trim it? or have to replace the track?
Do you have one fit the old track?
The old track's gap is only 3/8" even.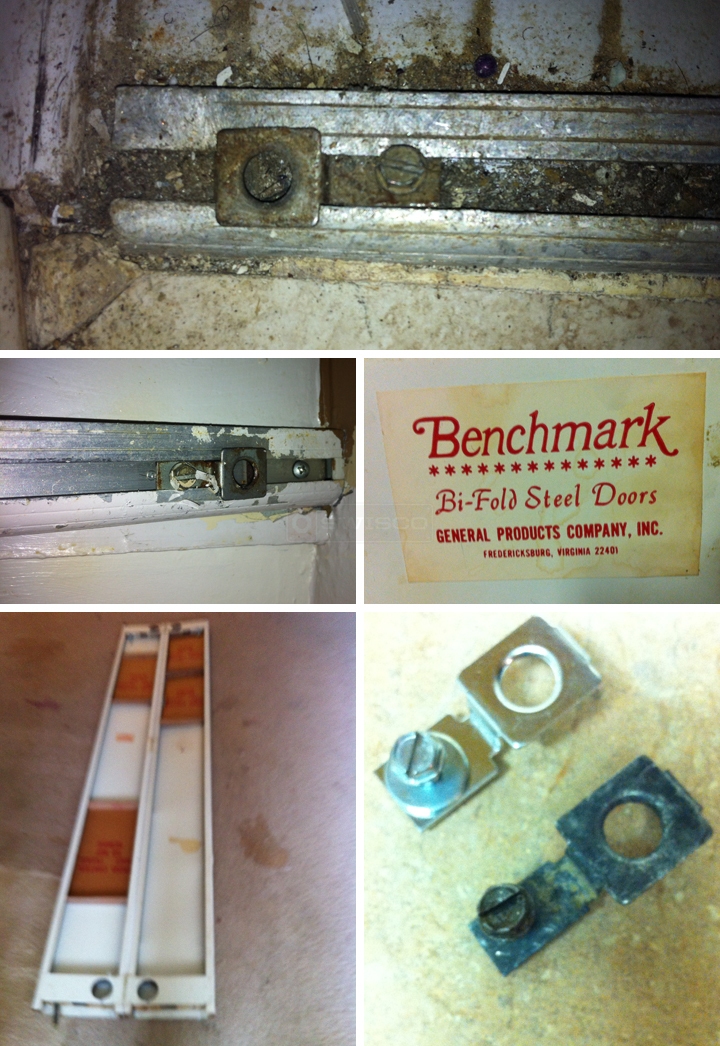 Paul from SWISCO responded:

April 3, 2014

Thank you! For the bi fold pins, you should consider one

21-002

bottom threaded pivot pin and three

21-044

guide pins. If you want to replace the track, see our

21-401

,

21-402

,

21-403

, or

21-404

. Let me know if this hardware matches.

To install the bracket, you need to remove the track, slide the new bracket under the lip while have the washer is above the lip. This way, as you tighten the pivot block with the screw, the washer and bracket lock in place.
A quick learner from Maryland says:
April 4, 2014
Paul from SWISCO responded:

April 11, 2014

The

21-209

is for a Benchmark door, but I'm not sure if it will fit. They may have used more than one type of bracket/track combination. It looks similar, but different enough that the only way to know is to take the track out and try to slide the bracket in.

Each of the tracks I recommended are a different size. You will have to measure your existing track to see which is better. You can cut them down, if necessary. These tracks do come with their own pivot brackets.