Patio door rollers from Truth
A home owner from Arizona says:
June 29, 2010
Hi, I have a heavy sliding door that needs the rollers replaced. They are marked: Truth 30410 and are tandem rollers that are 5 3/4 inches long. Is your replacement roller assembly Product #
81-137
the correct replacement? thank you Gari
Dave Sr. from SWISCO responded:

June 30, 2010

We've checked and our records say that

81-137

is considered "Truth 30410 - Roller Assembly, stainless steel wheels". I hope that's the answer you were looking for. If you're still not sure, your welcome to send us pictures and we'll double check for you.
Casey from SWISCO responded:

June 30, 2010

Be sure to match up your sample to the image online in case Truth has a different roller assembly with the same stamp number.
A quick learner says:
August 2, 2010
Hi, I ordered and received two of the above roller assembly (
81-137
) and the bar that you use to swrew the assembly into the frame is on the opposite side of the ones I have. Do you have another configuration. If you do not how do I return these and receive a refund.
Thanks
Gari
Casey from SWISCO responded:

August 4, 2010

Sounds like you have a similar roller with a different mounting placement, take a look at SWISCO product code

81-149

, I believe this may be the roller you are looking for.

To initiate a return please log in and click on the "Request a Return" link found in your SWISCO account page.
A quick learner from Upstate NY says:
April 4, 2011
Hi, I also have Roller stamped 30410. It seems like
81-137
would work if the roller were on the same side as the screw tabs. I believe the screw tabs have to be the ones like on the
81-137
(slightly L shaped) because the rollers hang down too far and the door cannot be reinstalled. If there is a model that dosn't have that "L" tab but the wheel completely retract into there housing that should work. does the
81-149
wheels completely retract into there housing? in other words if you put the assmbly on its mounting tabs the tabs should be flat on the table and the wheels should not be in the way. please let me know if you can help, Thanks, Fred

Tom from SWISCO responded:

April 11, 2011

Thank you for submitting your photo.

We are currently researching a possible replacement roller and will post an update on the discussion board as soon as more information becomes available.
A handy person from california says:
April 21, 2011
I bought the
81-141
. The L shaped brackets are assembled upside down. I had to disassemble the roller and install them correctly. As you can see the countersink on the bracket would require an impossible fit. I will try to return the rest for one that has the bracket installed correctly. MARK
A home owner from Wilton, Ca says:
April 25, 2011
Donna, my 30410 connecting ears run straight across and out from the body, not like the drop down ears like Fred's 30410. SO I ordered
81-149
, hope it works.
A home owner from AZ. says:
July 11, 2011
I likewise have 2 patio doors with the 30410 truth roller assemblies that need replacement. Have you come up with ban accurate replacement yet?
A home owner from Maryland says:
December 6, 2011
I have the same issue as Fred. I ordered
81-149
not realizing it was not the correct part. Any idea yet of what the correct part might be? Thanks Mike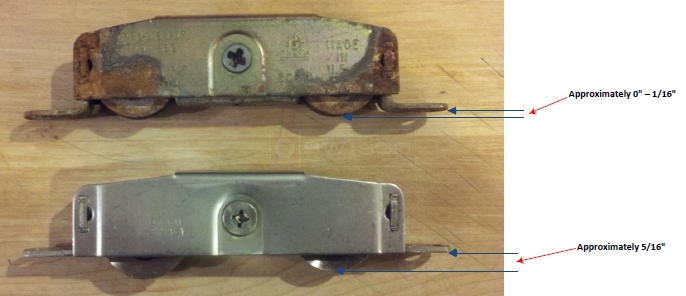 Tom from SWISCO responded:

December 19, 2011

Unfortunately, we do not carry a replacement for this style of Truth roller at this time. I apologize for the inconvenience.