Pivot shoe identification
A quick learner from New York says:
April 22, 2013
Attached is a photo of the part that I'm looking for:
Dimensions are 2" high, 1 1/4" wide, and 5/8" deep, though it might be a little taller as some of the top got crunched.
I'm also wondering how I attach it to the little rope inside the metal spring bar housing.
Basically, there's a spring inside a 3-sided long metal box, and it connects to a pulley that has a set of little ropes leading to a metal clip-- it isn't clear how I get the clip into the metal bar at the top of the pivot shoe.
Thanks to your awesome website and videos, I've identified the long metal box as a channel balance marked 43D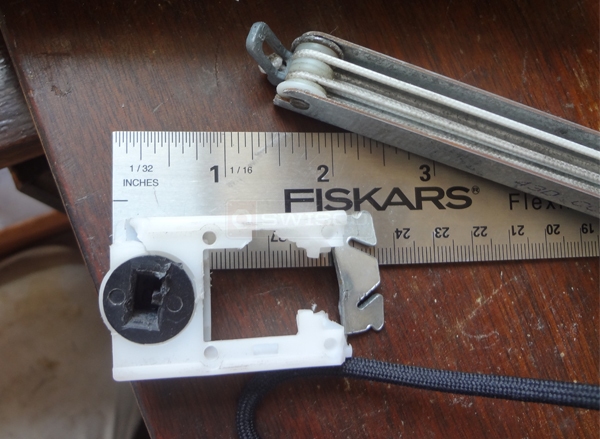 Paul from SWISCO responded:

April 23, 2013

Thanks for posting! I think you might want to look at our

15-047

pivot shoe and see how that compares to your shoe.

As for attaching the clip, you would simply slide the string itself into the slot. The metal clip acts like an anchor, making sure that the string doesn't shoot back up.
A quick learner says:
May 17, 2013
Just a heads up:

After destroying two pivot shoes, a channel balance, and my fingers following the method recommended in the video, I decided to do things a little differently the second time. My directions are as follows:

1) Re-install the pivot shoes WITHOUT connecting them.
2) Put a roll of movers wrap (5" diameter, though two phone books would work) through the window to act as a support.
3) Put the window into its track and snap in the top corners. Rest the window on the roll of movers wrap or phone books


4) Hold each pivot shoe and shove the corresponding foot into the hole

5) Tighten the pivot feet screws with an offset screwdriver (has to be short -- there's not a lot of room under the window)

6) Now rotate the window and have a helper hold it

7) Connect the channel balances to the pivot shoes.


This was much easier and safer for large windows than the approach recommended in the videos -- the big channel balances can easily pull the shoes up and destroy them.