Ply Gem Series 800 Angst
A home owner from Valley Glen, CA says:
June 18, 2016
We have a new home with seemly relatively young Ply Gem Double Hung
Series 800
Windows. Not sure when the actual manufacture or install date was.
First, wondering if you sell the window stops, as pictured in the attached.
Second, despite cleaning. lubricating and many attempts to adjust the spiral balance on our windows, most are still difficult to move, and removing is just as problematic. While I can eventually brute one side of the window up and angle the widow out, returning it is even more difficult.
When I remove the windows from the spiral balance and move the balance shoe manually, but twisting the notch, it moves quite freely. So, it doesn't appear to be an shoe issue...or does it?
One of the windows had broken stops, so the upper sash went beyond it's length, and pulled out of the balances. So, I've ordered replacements that should arrive in a week or so. Sorry, it was from Home Depot, before I discovered your amazing website.
So, we'll be replacing the both balances in that one window, which may lead us to a solution to the rest. However, it seems unlikely that nearly every window could have bad balances, leading to this epidemic.
Can you advise on some steps to take, to eliminate culprits?
I've attached the installed and removed stop, as well as the only identifying tags on the windows (inspection and specs)
Thanks,
D. Foster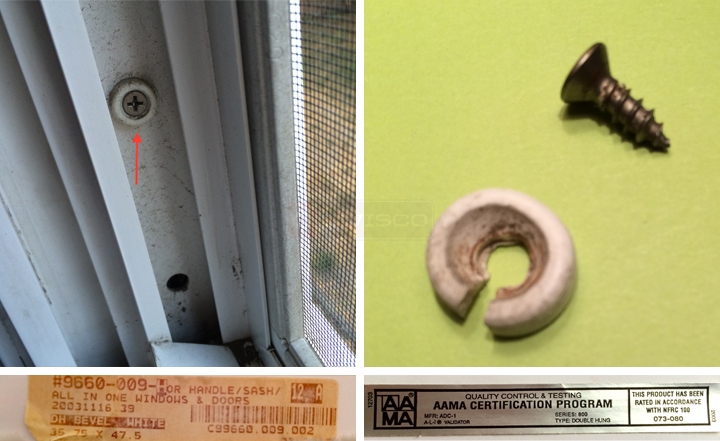 Paul from SWISCO responded:

June 21, 2016

Thanks for posting! Based on your your AAMA sticker, we were able to identify the window manufacturer as Atrium Door and Window from Anaheim, CA. That's just something to keep in mind that might help you in the future. For now, let's move on to your pictures.

We have a nylon face guide, the

67-005

, that I believe you can use a stop. Another solution you can consider is removing a good stop from another window and installing it on the window missing both stops. One stop should be sufficient for one window.

As for the spiral balances, it sounds like they could just be adjusted. See our media on how to adjust a tilt spiral. I've associated a few things to this page, which you can see on the right. Keep in mind that when you turn the spiral, you should feel tension building; if you don't, you probably need new balances.
A home owner from Valley Glen, CA says:
June 21, 2016
Thanks Paul. That's interesting and possibly welcome news that the manufacturer is different from what I thought. It will be helpful when approaching them, should I need to.

I think I've found a perfect stop replacement in the form of a raised nylon finish washer a at a local hardware store.

I'll tackle the balances again, and perhaps use single turns. However, it's so difficult to get them seated back into the shoe, which barely moves...I suppose because it's basically locked.

Stay tuned...
Paul from SWISCO responded:

June 22, 2016

Great! I'm glad you were able to find what you needed. As for getting the balance back in the shoe, you might want to consider a tool like our

75-006

. This usually makes life a lot easier. I also recommend watching the video below, just to get an idea of how we like to do it.

Let us know how the project works out!
A home owner from Valley Glen, CA says:
June 22, 2016
Afraid I wasn't clear. What I meant was it's a trial getting the window back into the shoe, because it barely moves once the window's out...and before. Already have the balance tool, and can't imagine adjusting the balance without that...
Paul from SWISCO responded:

June 23, 2016

Ah, I see. Sorry for the confusion. I'm afraid there's no real trick to that. It's just a matter of twisting it back in. Let me know how it works out.
A home owner from Valley Glen, CA says:
June 27, 2016
Paul. After instilling a new set of spiral window balance in the upper pane, its appears that the culprit with my very sticky windows was just that - bad balance. Seems odd, since the windows appear relatively new. But then, I have no idea when they were manufactured, let along installed.

Anyway, decided to just replace all the balance in all the windows.

But I have a question.

Is it normal for a dual-paned, tilt window with panes of equal size (and feels like equal weight) to have two different colors of spiral window balance? They're two different lengths (26" & 29"), but seems odd that they are two different colors.
Paul from SWISCO responded:

June 28, 2016

Sounds like a good plan. At the end of the day, sometimes getting new hardware is the best way to save a headache.

If the top and bottom sash use different sized balances, it's not totally out of the ordinary for them to use different colored tips. Considering the issues you've been having with these windows, though, you might want to be 100% sure. I recommend weighing your sashes on a scale and referring to the charts we have for each respective balance. That will let you know for sure what will work.