Rear socket replacement for kitchen cabinet
A home owner from St. louis, Missouri says:
October 31, 2011
The plastic rear socket brackets have broken on my kitchen drawer. I cannot find the manufacturers name on the rails or brackets. the side rail guide outside dimensions are: 6/16 x 1 inch and 22 1/4 long.
I need two rear mounted brackets (left and right sides)to attach this rail. The drawer itself is only 14 inches long.
Do you have a product that works for these dimensions?
Ed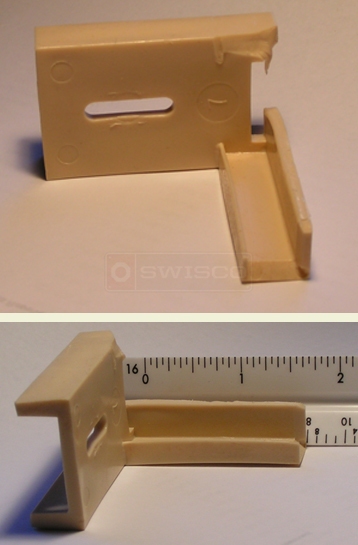 Tom from SWISCO responded:

November 2, 2011
A quick learner from Martin, TN says:
August 6, 2013
Please help me identify this part. I need 4 of them.
Tom from SWISCO responded:

August 9, 2013

Thank you for posting. I have placed you into an existing discussion regarding this very same socket. Please see above for a few suggestions.
A quick learner from Indiana says:
September 21, 2013
We are looking for plastic replacement brackets for the rear of the drawer slide mounts.
The numbers on the metal slides are this:565/2225R, 17002-66 and 565/2225L, 17002-67
I need one for each side however I suspect that there is no "left side/right side" as they appear to be able to work either way but if this is not the case lease let me know.
Tom from SWISCO responded:

September 24, 2013

Good morning! I've placed your post into an existing thread concerning the same kind of socket. Check out our suggestions above and see if you agree.
A quick learner from Ayer Ma says:
October 14, 2013
I have been looking for this exact bracket and wonder if there has been a successful replacement for it. I have two drawers sitting on a chair in my kitchen and have been so exasperated in trying to find a rear bracket that will work. Please help. I don't have a manufacturer's name on my cabinets, nor is there a name on the slides.
A home owner from Ash Grove, MO says:
December 18, 2013
Has ANYONE been able to locate the identical rear mounting brackets pictured? Unfortunately, the replacements suggested by SWISCO are flush mount and we are all trying to replace mounts that attach to the existing frame boards of our cabinets. In order to install the newer ones... we will have to reframe the back of our cabinets.

Unless you can offer an easier installation tip.
A home owner from Ash Grove, MO says:
December 18, 2013
So sorry! I must have hit the post button twice on my original post. Also, I must admit that I am WRONG. I just checked the framing of my cabinet & your product (and others like it) will certainly do the trick!
I didn't realize that the wood framing was flush with the wall before. I'm embarrassed that I didn't check my facts first. I'm sure the other posters already figured it out. Thanks for your help!
A quick learner from Huntingtown MD says:
April 1, 2015
I am looking for the same exact bracket. Was his problem ever solved? Thank you
A home owner from Dyersburg, TN says:
May 13, 2020
The Swisco
32-089
can be substituted for the L bracket shown above. The Swisco has the same slide aperture to fit my slides (3/8" wide and 1" tall). I spent hours searching for those elusive L brackets!
My cabinets had a thin 1/2" rail that the back L brackets used. So i placed a shim behind the Swisco bracket to strengthen the attachment (see pics). I did need to cut the length of the bracket to create some backspace for the drawer to completely close, however it does not change the strength (especially compared to the L bracket's flimsy plastic).
We store heavy items in our drawers and confident these Swisco
32-089
should easily install for most cabinets. Hope this helps! -Dave
A home owner from Pittsburgh, PA says:
February 25, 2021
To "A home owner from Dyersburg, TN" Thank you so much for taking the time to post the solution to the exact same problem I had with those discontinued unfindable breakable L- Brackets. I bought the same exact SWISCO brackets you suggested and everything else should be in place soon to get my drawers back off the floor. Thank you again.