Removing 23-043 rollers?
A quick learner from san diego says:
March 30, 2015
Hi im having trouble removing what i think are
23-043
type rollers. It seems that the whole bottom piece beeds to be removed but it is glued on. I have the big closet mirrors with gold trim. any advice you could give me? thanks.
Paul from SWISCO responded:

April 1, 2015

Could I see a few pictures of your door where the roller is located? That will help us determine a solution.
A quick learner from San Diego says:
April 1, 2015
Thanks for the reply. Here are pics of the side, front and back of the bottom of the closet door. After I had previously taken the whole door off and it was laying down, I took off the main screw holding the roller in, but when I tried try to pull it out it seems that it is also being held in place by the bottom piece of the sliding door. The bottom of the door has a small lip on both sides of the bottom that keeps the roller from coming out. Let me know if I need to send you pics of the roller itself, I'll need to take the door off again (not easy, these things are heavy). : ) Thanks.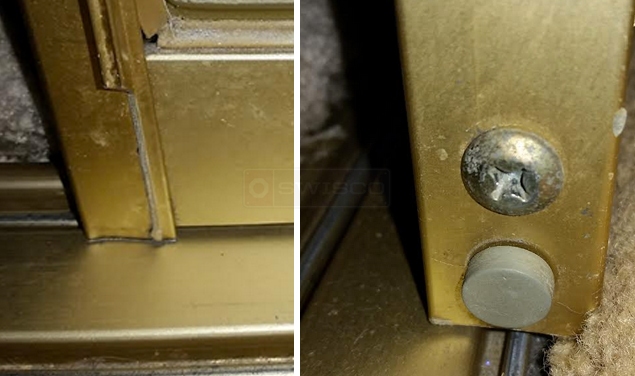 Paul from SWISCO responded:

April 2, 2015

Ah, I see. Okay, you are going to have to remove the door and lay it on a table or saw horses. Remove the frame screws and, with a wood block and hammer, tap off the bottom rail. You might have to slightly tap the bottom sides away from the bottom rail if it is hooked to the bottom rail.