Removing Alenco window
A handy person from Colorado says:
September 18, 2015
I'm helping my son with a 1980 house with OLD Alenco windows that are steaming or have cracked panes. I've searched numerous sites about removing single hung aluminum windows, but none fits the description of these windows. There are no release clips, no screws, no spiral balances, no "nothing" that I can see to allow these sashes to be removed from solid aluminum channels to have new lites put in.
I've attached a few photos that I hope will depict my description, but it appears they are kept from sliding down by friction with a plastic clip at the corners of the sash that rides on a metal rod located in the channels above the lower sash. When the lower sash is completely raised to ~3" metal stops at the top, there are no clips nor any extensions of this rod showing below the sash.
The only alternative I see is to remove the insulated lites with the sashes in place. It appears there is a plastic or aluminum insert on the outside of the glass that probably wedges it in place. The house was recently renovated with a stucco finish which makes removing the whole window cost prohibitive.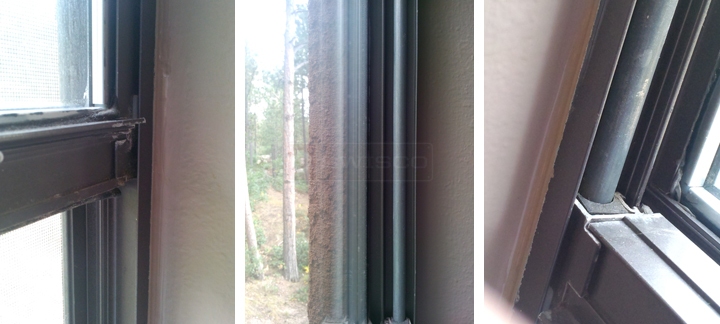 Paul from SWISCO responded:

September 22, 2015

Thanks for posting. Looks like you have an older kind of window that was actually not designed to come out. This is very frustrating, but there are ways around it. Using the method I have in mind, you will need to remove your balance first.

See our

75-005

charging tool. You will need something like this to hook on a hole at the very end of the balance spiral. Once it's hooked, release the spiral from the bracket attached to the bottom of the sash. Then, remove the top sash stop and pull the balance tube out from the sash (either from the top or the bottom, whichever is easier for you). That should allow you to remove the sash by pushing it on one side and swinging the opposite side in towards you.

Hopefully these instructions aren't too confusing! Let me know if you need clarification.