Replacement Sash Balance
A handy person from Redding, CA says:
January 16, 2013
I am looking to replace a window sash balance. Based on other posts I have seen, I tried to round up as much info as I could before posting. I believe that I need a 'S385-27 2660', but I wanted to check with the pros first.
My window is 46 1/16" wide by 29 13/16" tall. It is a single hung non-tilt sash window. The single pane when removed from the frame and placed on a scale weights approximately 33 lbs.
The current sash is labelled with the stamp '26 4 CALDWELL HM'. It measures 27" long from metal end to metal end, 1/2" wide, and 9/16" deep. The pictures below are of the shoe and top for the balance, along with the stamp.
Am I correct in my guestimate for the replacement part? Thanks.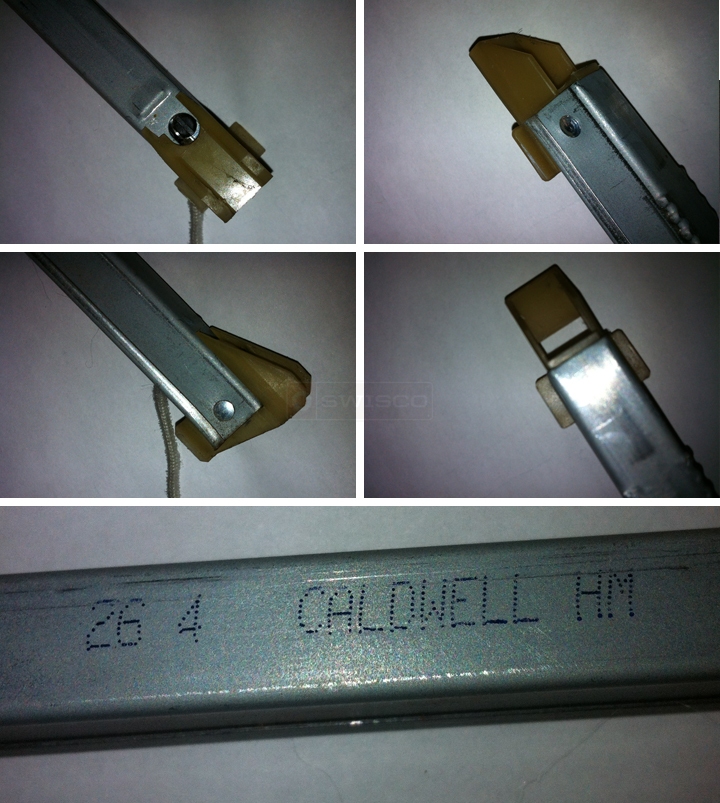 Paul from SWISCO responded:

January 17, 2013

Thanks for posting! You are correct. For a 33 pound sash, you will need the 2660 option. However, it seems that the window manufacturer used 2640, which support 19 through 26 pounds. I wonder why that is. Did your window ever seem hard to open, like it was too heavy?
A handy person from Redding, CA says:
January 17, 2013
It has been heavy from day one. Most of the other windows in the house are heavy as well. I wonder if this might be the reason.

I'll have to check the other balance to see if it is rated as a 2640 as well. If so, then it seems best to replace both balances.

Thanks for the feedback. Much appreciated.
Paul from SWISCO responded:

January 18, 2013

No problem! I'm glad I could help. Let me know if you have any other questions.