Replacement channel Balances 27DS B.S.L. DJ 33
A home owner from Oceanside, CA 92056 says:
July 30, 2012
I am loooking for replacements for an unknown window balance. The only identiflcation I find on the broken one is an imprint on the channel as folows: 27DS B.S.L. DJ 33. It measures 29" from tip of the shoe to the channel balance top; 28" from the bottow to the top of the metal channel. The channel is 5/8" deep and 5/8" wide. I have enclosed some pictures to help in the ID.
Can you provide ordering information for replacements?
Thanks for your help. Regards,
Joe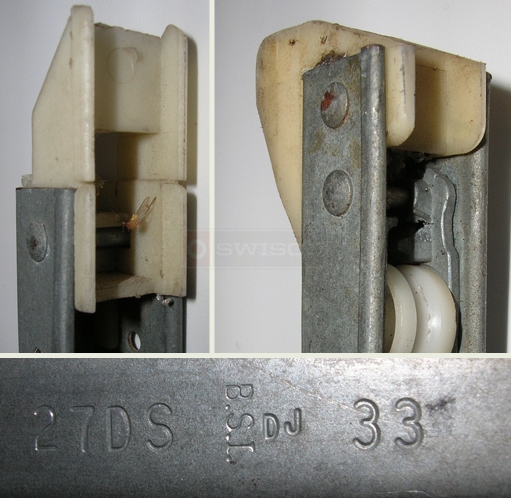 Tom from SWISCO responded:

July 31, 2012

Thanks for posting. Before I can confirm what Series channel balance you have, I'll have to figure out what your bottom shoe is. Please look at the measurements for our

15-001

and

15-002

bottom shoes and note their depths. As you can see, they are 1-1/8" deep and 1" deep, respectively. Which measurement more closely resembles your own shoe?
A home owner from Oceanside CA says:
July 31, 2012
Looks like I have the
15-001
bottom shoe.
Joe
Tom from SWISCO responded:

July 31, 2012

Thank you! In that case, please take a look at our

S390-28

channel balance. Does that look about right?

I just need you to confirm the weight of your window sash before we can decide on your option. You can determine this by removing the sash from the window and placing it on a scale. Let me know!
A home owner from Oceanside, CA says:
July 31, 2012
Tom, You wont believe this but when I removed the sash to weigh it I removed the other balance(the one still working) and it had a different ID: 26 3 FR Caldwell. That number range a bell.

About a year ago you sourced a replacemment for that balance and I purchase a pair to replace another window in the house. Only one was bad so I saved the other old one. I located it and installed it in place of the one that is currently broken. It fit and works fine. So at the present time I do not need a replacement.

Thanks again for your assistance and if another one goes bad I will be back.

Regards and thanks again.
Joe
Tom from SWISCO responded:

August 1, 2012

That's good to hear, Joe! Isn't it nice how some problems seem to almost fix themselves? Either way, please let me know if you have any questions in the future.