Replacement interlocking weather stripping
A contractor from ma says:
April 22, 2011
I need replacement interlocking weather stripping for a 6' x 6'8" slideing glass door. There are no markings or info on the door anywhere, so I have no idea on the manufacturer. All I know is that it is a lower end solid wood unit. I'm looking to replace the weather stripping that goes on the stationary and active panels along the edge that locks together. I saw one interlocking weather stripping on this site, but it said something about "top and bottom" which made me think it's not what I need. I required, I could take a picture of the weather stripping that I removed and forward it? Any ideas? Thanks
Mike from SWISCO responded:

April 25, 2011

Good Afternoon,

A picture of the weatherstripping you removed will help us identify a replacement. You can submit your picture to this discussion for us to view. Let me know if you run into trouble.
A contractor says:
April 25, 2011
Yeah, sorry about that. After i sent the question, I saw the tips about sending pictures. I also started another thread and asked about Fin -Pile weather-stripping because I thought I wasn't going to have any luck with replacing the whole interlocking weather strip. So I figured I may try replacing the pile on the existing interlocking strips. Anyway, here are the pictures I took.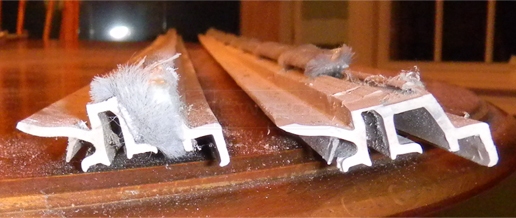 Dave Sr. from SWISCO responded:

April 26, 2011

Thank you for submitting your photos. Unfortunately I cannot seem to identify your vinyl piece.

I do see your other discussion in regards to additional measurements for the 58-126 wool pile. Have you determined whether or not the 58-126 will work as a replacement for you?
A contractor says:
April 26, 2011
Yes, I think the replacement pile weather stripping should fit right in the tracks in the vinyl pieces above (as well as some others on the door) So I think I'll just try and reuse the vinyl. Hopefuly, everything will work out, thanks
Paul from SWISCO responded:

April 27, 2011

I agree, you should be able to replace the wool pile with no problems.