Replacement latch for Traco Tilt window
A quick learner from Minneapolis, Mn says:
October 3, 2011
I am looking for the window latch for a traco tilt window. I am thinking it is the
26-243
. I need both left and right. The latch has a patent number of 5.139.291 with another number of 2R.
I have attached a photos of the latch. If you need I can send you the latch itself.
Thank you. Lynn H.

Mike from SWISCO responded:

October 4, 2011

Good Morning Lynn,

I believe the

26-390

and

26-391

style tilt latch might be closer to your original latch. Take a look at the product pictures on SWISCO's web site and compare the measurements of your latch to the dimensions online. I also do not see the tongue in your picture. You will want to take a look at an unbroken latch to compare the tongue.

The patent number is for the housing and not this specific style. We have a few different style tilt latches with this same patent number.
A contractor from Lincoln, Ne says:
October 24, 2011
I need some R&L tilt latch's for some old Traco 4200 series DH. Can you help me. Also need some screen making material for the same
Mike from SWISCO responded:

October 24, 2011
A handy person from Bemidji, MN says:
June 14, 2012
I have a similar latch with the same patient number on the housing and a 3r marking instead of 2r as the quick learner from Mpls. I cannot find any identification as far as the brand of window. There are several numbers on stickers for each window. The lumber yard that sold the windows is out of business.
The latch that I have matches your dimension for latch number
26-391
. My latch has a vertical tab that is stapled to the window. This prevents the latch from sliding out.
My question is in regard to the installation. The
26-391
slides "into the side of the sash and snapping in. No need to take window apart to do this."
Is there locking tabs on the
26-391
or is it held in position by friction? Would the
26-391
hold its position with out a "snap in"?
Thank-you
Paul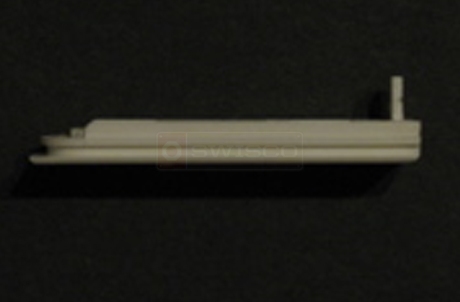 Paul from SWISCO responded:

June 15, 2012

Thanks for posting, Paul. The

26-391

does not have such a vertical tab. It slides into a slot that should already be in your sash. Do you have such a slot? If so, do you think a window latch fit into that slot without a vertical tab?