Replacement parts needed for Pennco windows
A home owner from USA says:
March 21, 2016
Hello! We have a 6 yr. old home that has Pennco Inc. vinyl windows. Two of which are not working currently. The length of window is 70" inside wood casing.
First one - window will not let me open. In the unlock position, it acts like it is going to open but then stops, as if it's still locked and won't budge.
(note -this window has already been open this spring many times.)
2nd one - mechanism on right side of window is broke. It will not hold window in position. Window could slide but, is not able to stay up in place
due to the weight of the window. All top side locks do work, & all top center locks work.
Our local lumber co gave me possible numbers for the windows the builder purchased 6 years ago. Pennco - 2180 Series. #60 Balace. We have had other
windows in the past that have had the string on left come undone, If you have any suggestions for that issue, we'd greatly appreaciate your input. So I am
guessing we will need to purchase a few extra parts as well.
Thank you for reviewing and helping us troubleshoot our window issues.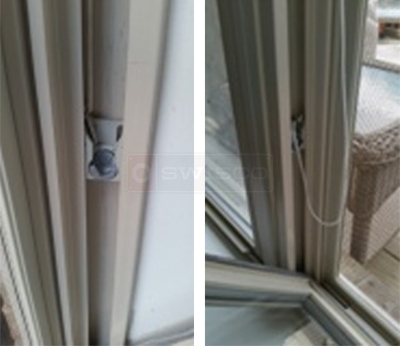 Paul from SWISCO responded:

March 23, 2016

Thanks for posting. It definitely sounds like an issue with your balances, but I cannot identify what you have based on these pictures. If possible, please show me a couple pictures of the balance itself. Please also give me the length of the metal channel and whatever stamp is printed on it. Thanks!