Replacing my internal tilt corner latch
A home owner from connecticut says:
May 4, 2015
I am looking for tilt latches for my tilt in windows. I have included some pictures, and want to add that on the part is the number 11230 on the left latch, (11231 on the right latch) and on the corner piece, there is a number 11228 for the left, and 11229 for the right.
I have found in you listing a part that most resembles my part, it is your Catalogue number
26-110
and
26-111
. While these parts look a lot like mine there are many differences when i compare the dimensions. Also note that on my pictures, there is a small rectangular hole for the thumb latch, directly behind a the slot in the latch itself. That is crucial, as the slot in the top of upper frame piece has to line up with this to allow the thumb latch to attach to the latch..
ref. dimensions.. mine yours
overalll length 2 3/4 3 1/16
overall hight 1 1/8 1 1/4
latch width 7/8 1.0
overall width 1 1/4 1 1/4
underneath hight 13/16 11/16
latch thickness 3/16 3/16
my corner peice has two sscrews to attach to the fram, one from the underside of the tops frame into the corner piece, and one from the outside of the right side frame into the corner piece. I hope this is enough info. There are no other marking or lables on the window. Email me if you need more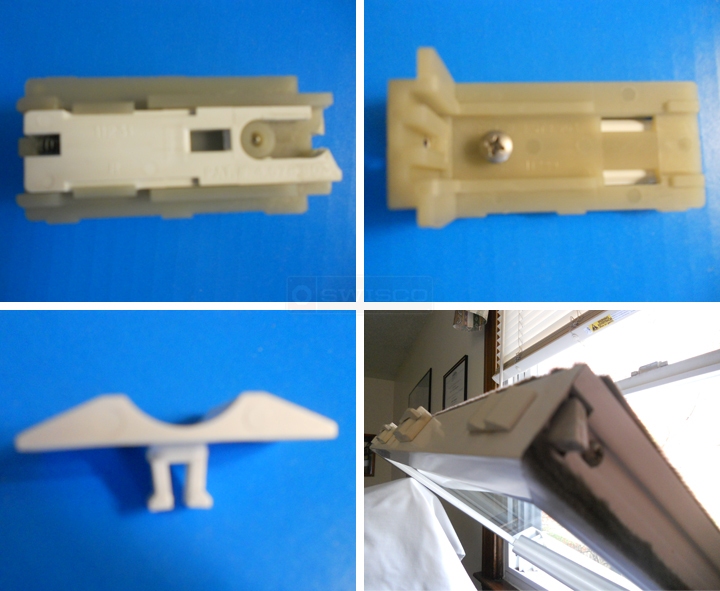 Paul from SWISCO responded:

May 7, 2015

I don't believe those parts will work for you. I'm afraid we don't have an exact match for this latch. To be honest, you may be better off substituting with a

surface mount tilt latch

. These are different than the others in that they just screw on. We have a video tutorial that shows how we do this. We find it to be an easier solution for sashes like yours. Let me know what you think!