Replacing pivot shoe
A handy person from Wayne, NJ says:
May 17, 2011
I have looked, but could not find a guide for replacing pivot shoes on vinyl windows that don't seem to have a slot to remove/replace the shoe. I imagine I'm going to have to make my own slot up high, since that area won't be traveled on by the shoe when the window is 'operated'.

Just wanted to check with 'you guys' (1) if I missed a guide on how to do that or (2) am I correct in my assessment of how I should replace these pivot shoes.

By the way... I think I ordered the wrong pivot shoes. I found a style more like the one I need... I think. I'll let you know when I get that first one out tomorrow.
Thanks for your help.
Conrad B
Paul from SWISCO responded:

May 18, 2011

Conrad, upload a few quick photos of your pivot shoe so we can identify it and make sure you're ordering the right one this time.
A home owner from Wayne, NJ says:
May 18, 2011
Hello Paul,
Thanks for the response.
Hopefully these pictures will help in determining which is the right pivot shoe that I need.
I got the thickness right, but that's about it. I'm thinking the correct shoe might be Product Code 15-118, but I'll let you make that call.
I did have to cut out a piece of the track to pop the shoe out. I don't suppose there's an easier way, is there?
Thanks again for your help.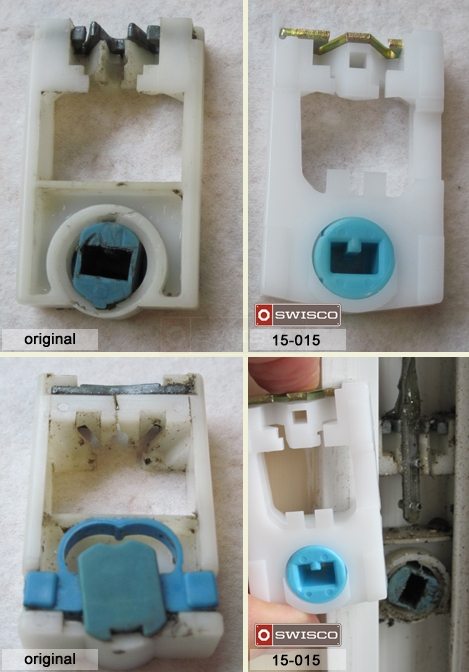 Mike from SWISCO responded:

May 19, 2011

Thank you for posting an image. We're currently researching possible replacement pivot shoes. We will post an update as soon as more information becomes available.
A home owner from Wayne, NJ says:
May 19, 2011
Thank you.
I look forward to your response.

Conrad
Paul from SWISCO responded:

May 24, 2011

Good morning, Conrad.

I'm actually surprised the

15-015 Pivot Shoe

did not work with your application. Your original shoe is a copy of the Swisco

15-015

. Both shoes have side brakes, as all of the other pivot shoes have brakes on the rear (rear-brake pivot shoes will not work on your windows).

I would recommend you give the installation one more try.
A quick learner from Wayne, NJ says:
May 24, 2011
Paul,
I really didn't try to install the 15-015 for fear of messing it up. I was able to remove the old shoe and put it side by side with the 15-015, but the 15-015 is an eight of an inch shorter.
The dimensions of the 15-118 are dead on and appear to have the same slots to connect to the spiral balance, whereas the 15-015 does not.
I do believe the 15-015 would work... but is it the right one??? Tell ya what, I'll try 2 of them on the one window and see what happens. This way if not right, I'll only have to eat 2 of the shoes.

Thanks again,
Conrad
A home owner from Wayne, NJ says:
May 24, 2011
Ok... I installed 1 shoe on a window and the 15-015 seems to work ok, HOWEVER... the spiral balance has to snap into the shoe in one of the 2 slots. This causes the spiral balance to 'bend' slightly to accommodate that slot. With the 15-118... the slot is in the middle of the shoe with 2 alternate slots like the 15-015 has.

Will that bending of the spiral balance make that much of a difference? I'm guessing no.
Thanks again,
Conrad
Paul from SWISCO responded:

May 24, 2011

Believe it or not, the middle slot is not intended for the spiral shaft. The way you installed it is correct.
A home owner from Wayne, NJ says:
May 24, 2011
Ok... I'll work with these pieces then...
Thanks again!
Conrad