STAMP ON CHANNEL BALANCE
A quick learner from CHICAGO says:
November 12, 2015
Hello,
the stamp on my balance reads: 12KL B.S.I. pj
The balance seems to measure 9/16" wide and 1/2" deep. I tried to replace it with a 12B JE. But the replacement is attaches differently and interferes with the operation of the window. AND, it doesn't hold the window up.
I've been to a lot of sites but can't find any reference to 'KL'.
Can you tell me what the KL stamp on the original means? and what I should replace it with?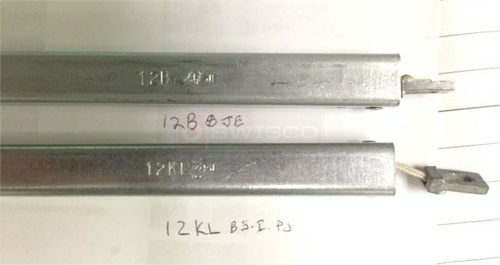 A quick learner from CHICAGO says:
November 12, 2015
Also, is it possible that the original balance was always the wrong one for my window? What is the best method for ensuring I have the right balance for my window?
Thanks.
Tom from SWISCO responded:

November 12, 2015

I'm not sure how we would determine if the

Series 770

was what your window used originally. The only way to know that would be to try and find the original installers, whoever they may be.

As for the balances you have now, I can tell right away that the reason why the new

S770-12

cannot hold up your sash is because the spring is not the same strength. If you can, please weigh your sash on a scale so that we can know for sure which of our options can work for you.

Can you also give me more information about how it attaches? How does it differ from the

Series 770

exactly? Could you show us pictures?
A quick learner from CHICAGO says:
November 12, 2015
Thanks for the quick response. How do you know it is a S770? Does the stamp tell you that? And yes, I have more pictures, but will take me a bit to get them attached and sent. The replacement balance is not from Swisco. But do all replacement companies have access to the same balances and just give them different names or series numbers?
Tom from SWISCO responded:

November 12, 2015

The stamp only tells us how strong the spring is, though to tell the truth I'm not familiar with "12KL" either. I am assuming you have a

S770-12

because this is the product you were posting under. I agree that it looks similar, so I didn't have any reason to think otherwise. Do you believe you have a different Series?

While some companies may sell the same hardware, not everything will be the same. Some balance types have been known to be produced by different manufacturers, as well. It can be a little chaotic, which is why we like to rely on hard information like pictures, measurements, and sash weights. Manufacturing codes may be unreliable, but measurements never lie.

Right now, it'd probably be best to get us the following information:

1) The weight of your sash, which can be determined by removing it from the window and placing it on a scale.

2) A picture of how your balance attaches to the window. The

S770-12

attaches with a screw, but I am not sure how yours attaches.

3) A picture of the shoe that the metal clip hooks onto. That will let us confirm that the

S770-12

hook will work the same way.
A quick learner from CHICAGO says:
November 12, 2015
Have attached photo of the original and replacement channel balances. The replacement balance came with the white plastic block vs. the steel rivet on the original. We modified the replacement with a steel rivet because the project had been going on so long, that instead of sending back balances when we noticed discrepancies, we tried to adapt what we had and hoped for the best. Unfortunately, the new balances don't work at all. The sashes still sag (the original problem) plus now they cause the sashes to get hung up on the balances.
Thanks for your help.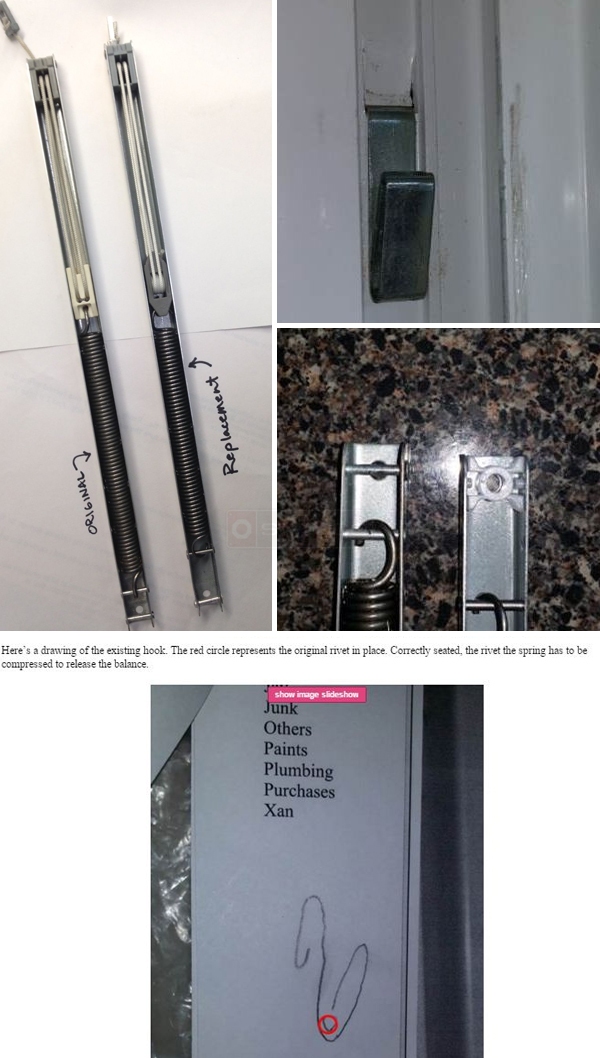 A quick learner from Chicago says:
November 12, 2015
Did you receive a followup email from me with 3-4 pictures attached. I recall seeing a message that they were being reviewed, but now I can't seem to find that message anywhere. I have pictures of the shoes. I will attach those now and wait before resending the other pictures.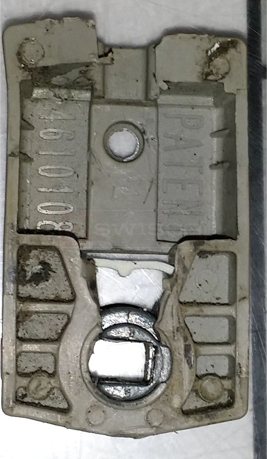 Paul from SWISCO responded:

November 13, 2015

Thanks for the additional pictures. Sometimes, window companies order standard balances and make slight changes to accommodate their windows. Based on what I see here, we can make this balance for you, but it will have to be custom made. I believe it will be a standard

S770-12

tilt balance, but with a top rivet instead of the white screw plug at the top.

Before we begin, though, we will just need to know the weight of your sash and exactly how many of these balances you will need. The main problem seems to be that the windows sag, so getting the weight of your sash is essential in making sure the new springs are strong enough.
A quick learner from CHICAGO says:
December 8, 2015
Finally got a weight on the sash in question: 22 lbs. Does that help explain the problems we've been having?
Paul from SWISCO responded:

December 9, 2015

Thank you for the additional information. That should be everything we need. I just need two last bits: are these balances for the top or bottom sash, and how many would you like?
A quick learner from CHICAGO says:
December 10, 2015
They are for the top sash, and I need two.
Paul from SWISCO responded:

December 15, 2015

Great, thanks. I've emailed you a custom order link and quote, which you should receive in a moment. We also sell the S-hook separately; you can view them on the right side of this page.