Silverline Single Hung Swing to Clean Hinged Aluminum Window Channel Balance
A contractor from Manalapan, N.J. says:
July 9, 2013
The window mentioned above has a hinge on the lower sash left side of window when looking at it from the inside. These vintage windows (1980's)are very common in central N.J. The channel balance on the hinge side is broken. I cannot remove the window to weigh it due to the fact that the hinge is riveted to the sash and the frame. Great Design. NOT!!!
The metal channel is 1/2 inch and 20 inches long with only a top shoe like your
19-008
(same dimensions). The only thing stamped on the balance is 1940 # as shown in pics. Please advise as to if these are available, etc so I can advise my customer of cost, etc.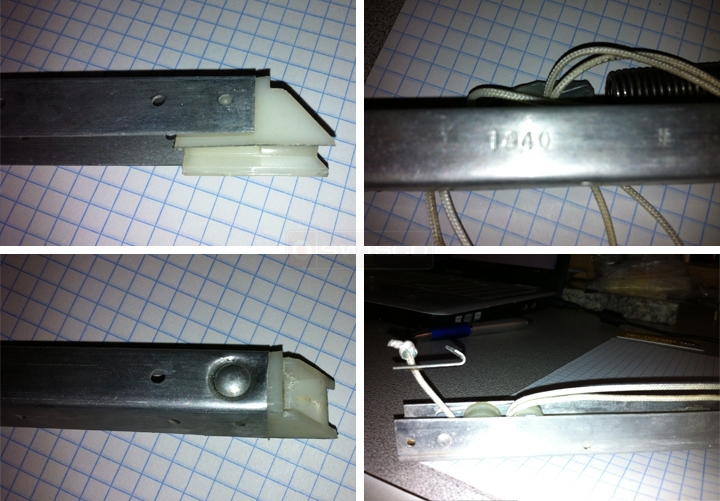 Tom from SWISCO responded:

July 10, 2013

Ah, the ol' hinged window channel balances. I'm familiar with these. We can help you out, but before I can suggest anything I just need to clear some things up.

For these windows, there are two channel balances. One has both the top and bottom attachment, the other has just the top. Are you looking for both? It appears your pictures show the latter, and I believe that top is closer to our

19-008

, which is typical for this type of balance. Can you confirm? As for the balance that has both the top and bottom attachment, is the bottom more like our 15-025?

If you need the other one, as well, can you tell me what its stamp is? Usually they have two different stamps.

With that information in mind, we should be able to work from there. Let me know!
A contractor from Manalapan, N.J. says:
July 10, 2013
Hey Tom, Yes both channel balances are different and I do need the balance with No Bottom Shoe. Yes I do believe the top shoe is
19-008
. The homeowner only wants to replace the broken ones and not the pair on each window. He is selling the house. So, I need 2 each of the 1/2 inch 20 inch long balances with only the
19-008
top shoe with 1940 # stamped on it. Thank you. How much are they and how do I go about ordering if the homeowner wants to go ahead with the repair?
Tom from SWISCO responded:

July 11, 2013

Great. Check out this

Channel Balance Order Form

that I've made for you based on your specifications. Once you fill out and submit the rest of the information, one of our representatives will get back to you with a price quote and an item to add to your cart. That will allow you to finalize the order online the same as anything else on our site.
A contractor from Manalapan, Nj says:
July 18, 2013
Hey Tom, I ordered the balances and received them today. They look like a match. I'll be installing them probably today. Thank you for your help. I'm sure you will be hearing from me again for future jobs. Great site.
Tom from SWISCO responded:

July 19, 2013

Awesome! Let me know if you need anything else, I'd be happy to help.