Slider screen lock and pull
A contractor from Honolulu, HI says:
November 1, 2011
Good Afternoon,
I am trying to locate the attached sliding screen door lock/pull. It has one screw and clips into the side of the frame. There is a slide lock on the inside
Any help would be appreciated
Paul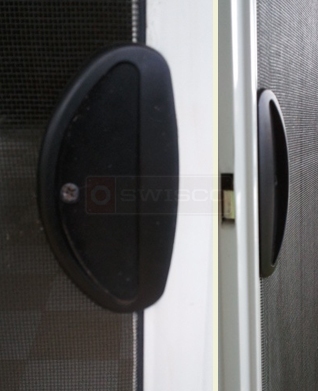 A quick learner from Honolulu, Hawaii says:
November 1, 2011
Hi Mike, yes I went through all of your items and a few other web sites and had no luck, I can make your item #
83-116
work but it requires drilling two screw holes through the screen frame. It would not be so bad if it was just one screen but I am on an apartment complex with 406 units and go through about 3-5 a month. I can take more pictures if you need
Paul
Paul from SWISCO responded:

November 3, 2011

Your screen door lock does not look familiar, unfortunately. Do you Know the manufacturer? Also, it would be better if you were to remove the lock completely from the door, so that we can get a better look at the part.
A contractor from Honolulu HI says:
November 3, 2011
Hi Paul, I have attached more pictures, the one screw that holds the pull on goes on the screen side. I hope these help. Also there is no manufacture tag on the window, I am trying to locate the company that installed them a few years back but have had no luck.
Paul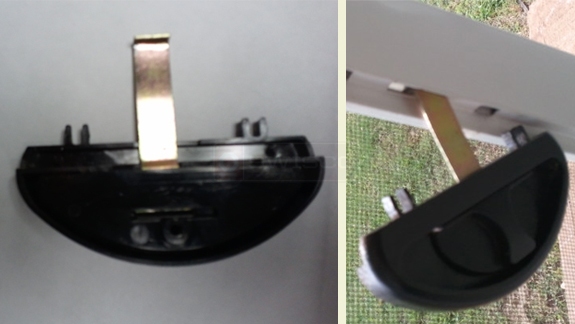 A contractor from Honolulu says:
November 10, 2011
I was wondering if there was any update on this, I did send some more pictures last week?
Mike from SWISCO responded:

November 16, 2011

Thank you for your patience.

Unfortunately, we have not been able to identify a replacement latch for your original.

I'm sorry we were not able to help you at this time.

The 83-113 Latch And Pull Assembly appears to be the closest match we currently have.
A contractor from Woodbury, Ct says:
May 22, 2013
Your pull and latch are made by American Craftsman and it is a design exclusively to their doors. Only problem is that American Craftsman (an Anderson company does not under any circumstances sell replacement parts. They only replace broken parts with a serial number and or receipt of the product. Since their screen doors carry no serial number.... Well figure it out for yourself.. it is the most ridiculous company policy I've ever heard of in my 30 Years in the trades. Good luck. It does appear to me at face value of the pictures that the handle Swisco recommended will work with some modification of your door. Hope this helps.