Scratches in tilt out window
A quick learner from Austin, TX 78737 says:
May 27, 2016
I'm installing
Series 900
spiral balance in a tilt out window and following instructions on your YouTube "how-to" video. Once the new spiral balances are installed and the window lowered, the window will not go back up.
I have de-installed the window and found minute scratches in the metal window guide that are stopping the pivot shoes. I dressed the scratches, tested the pivot shoe movement and repeated the spiral balance installation process and once again new scratches appeared and the window would not go back up. I dressed the new scratches and tested the pivot shoe movement and installed the window WITHOUT attaching the spiral balances and ran the window up and down without creating new scratches.
Could these scratches be caused by the spiral balance where it fits into the pivot shoe?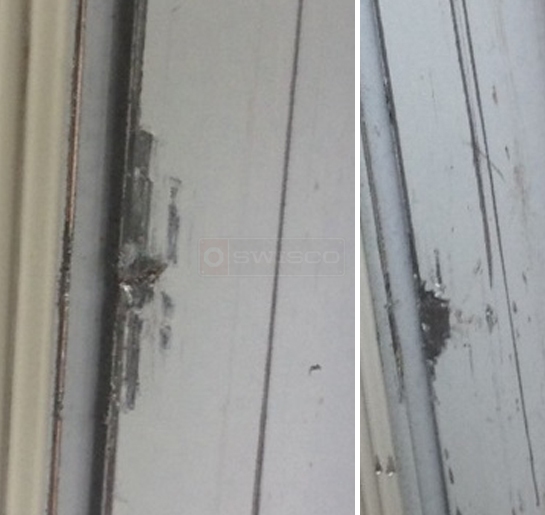 A quick learner from Austin, TX 78737 says:
May 27, 2016
Two additional issues:

1) The scratches that are inhibiting the normal vertical movement of the pivot guides are coming from the pivot shoe locks that engage when the window is rotated from vertical (normal operation) to horizontal (installation and removal). Any movement of a "locked" pivot shoe seems to be scraping the metal guide enough to create sharp indentations. Since you have to slide one of the shoes in order to remove or reinstall a window, I'm not sure how this problem can be avoided.

2) The reason why the window works fine without the spiral balances installed is because the spiral balance tension is engaging the pivot shoe lock even when the window is rotated to its normal vertical position.

Let me guess....... I need new pivot shoes???
Tom from SWISCO responded:

June 1, 2016

Thanks for posting! Based on your evidence and clever experimentation, it definitely sounds like the pivot shoes are an issue. Usually, when you tilt a window back up, it rotates the cam of the pivot shoe and unlocks it, allowing it to travel freely. It sounds like this isn't happening for you. A good way to test is to manually rotate the cam with a screwdriver to see if its unlocking properly.

If it doesn't, then the answer is clear: the pivot shoes need replacing. If it does unlock normally, however, then things get a little trickier. Maybe try lubricating the track with a silicone spray and see if that helps. It may be a good idea to do that, anyway.