Spiral balances for tilt windows
A handy person from West Chester, PA says:
March 20, 2016
I need to replace 46 (23 windows) spiral balances.
As pictures the old spiral balances have blue tips and white plastic tube covers. Most of the plastic tubes are cracked and falling off.
The tube size is 28 1/2 long and 3/8 inches in diameter.
These are original windows and I can find no brand names or numbers on the windows or on the balances.
The windows have fixed upper window and tilt out lower. I have not been able to remove the lower windows as shown in your Youtube demos.
Hope you can help. I can't afford to replace my windows.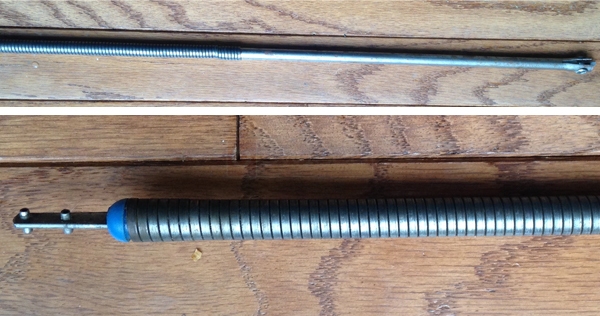 Paul from SWISCO responded:

March 22, 2016

Thanks for contacting us. Can you confirm the diameter of your outer tube? Looking at your balance, I think it should be more like 5/8" or 9/16". If so, I would recommend our

Series 600

spiral balance. Can you also confirm the length of the outer tube? I know it's broken in your pictures, but if you have an undamaged version elsewhere in the house you could use that. Alternatively, you can measure from the end of the balance (where the screw hole is) to just up to the bottom of the blue bearing. That will give you the length as it is determined in the industry.
A handy person from West Chester, PA says:
March 22, 2016
You are right Paul.
The plastic outer tube is exactly 9/16"
From the top of the balance rod (just 3/16 above the top edge of the screw hole to the base of the blue seal is 28 5/8". The blue seal is 3/16"
Given these measurements, does it sound to you like the
Series 600
will work?
Paul from SWISCO responded:

March 24, 2016

Yes! In fact, I would round up and recommend our

S600-29

spiral balance. I think this is our best match.
A handy person from West Chester, PA says:
March 25, 2016
Any reason to err toward 29" rather than 28 and pull it down to the block?
Paul, Thanks for all you help. Much appreciated.
I will order a set of blue tip
S600-29
balances and install them. If all goes well I'll order another 22 pair.
Paul from SWISCO responded:

March 25, 2016

If you think rounding down would be better, you can try it out, but I usually always round to the nearest inch, whichever way it happens to be. In your case, it's closer to 29" than 28".

Thank you for the order! If you have any other questions, please let me know.