Spring balance window channel-2740 BS1
A handy person from Central Texas says:
March 14, 2013
I'm need of replacing the spring balances but would like to know about the bottom being different from the illustrations that you have.
Are the bottoms interchangeable? I'm asking cause I've got what looks like a
15-002
or
15-003
bottom yet the
15-005
appears to be a better choice to avoid the brace from swinging back and forth due to the extra flaps/wings on the
15-005
.
The number stamped on the brace is 2740 BS1. Hope someone there will be able to assist, if not, may you direct me as to whom I'd need to turn to, to get these replaced. I thank you for your time.
Attached are the photos of the ends of the balance.
Thank you.
Carlos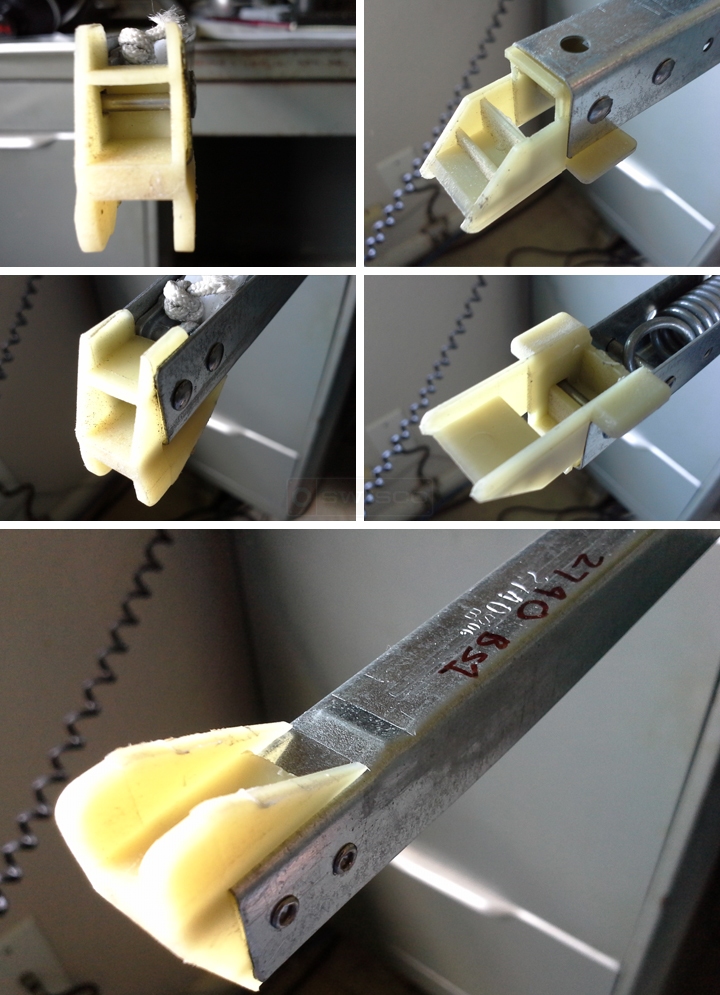 Paul from SWISCO responded:

March 15, 2013

Hey, Carlos, thanks for posting. These bottom shoes are not interchangeable. You'll have to match your dimensions to what we show on our site to determine what you have.

Now, because your top attachment is winged and your bottom isn't, your balance will have to be custom made. That combination does not match any of our standard Series. I also do not recommend changing your shoe from non-winged to winged, as there may be a reason why the original installers chose the balances you have now. It's always better to replace your hardware with what was installed originally.

Before I can start with a custom order form, however, I'll need to determine what your bottom shoe actually is. Just by eyeballing it, I think you either have our

15-001

or

15-002

. As you can see, they are 1-1/8" deep and 1" deep, respectively. Which measurement more closely resembles your own shoe?
A handy person from Central Texas says:
March 15, 2013
Hi Paul,
Your assumption is correct after measuring the bottom shoe it is exactly as you 'eyeballed' it! It would be the
15-002
that would be needed. What would be the next step in getting these made? By doing this custom order does that add in cost and to the time in making them as well as mailing them out? I'm asking since we're moving from one house to another and I was asked to fix this.
Is it possible to just purchase the balance clip attachment Paul? Looking forward to hearing from you and appreciate your suggestion(s).
Carlos
Paul from SWISCO responded:

March 15, 2013

Great! Well, take a look at this

Custom Channel Balance Order Form

that I've started for you and look it over. If everything seems like a good match, you can submit it for one of our representatives to look over. They will get back to you with more information shortly, including a quote.

I'm not sure what part you're referring to when you say balance clip attachment. What part of the balance is that exactly?
A handy person from Central Texas says:
March 15, 2013
It's a small either stainless steel or aluminum clip that is at the bottom of the brace and the string passes through an opening and is tied off at the bottom. I've attached a photo of the two different balances and you should be able to see the clip with the knot on one and with the other I've just tied a knot to keep that in place for now. As I look at parts that SWISCO sells it would be part number
15-198.

Paul from SWISCO responded:

March 15, 2013

Oh, I see. The hook at the end of the string for this kind of channel balance is our

62-106

. However, they come with the balance when you order it.