Support posts on the top of a window screen
A home owner from Ohio says:
October 14, 2013
Hello,

The large rectangular screens (I do not know the manufacturer) in the house that we moved into are designed to have two plastic posts on top. The posts are about an inch or two high and have a threaded end and they fit into a channel to keep the top half of the screen stabilized. The lower part of the screen locks into place with screen plungers.

Over time virtually every one of these posts have sheared off and this causes the screens to fit loosely in the window. I'm sure I could find some kind of dowel rod as a makeshift replacement, but Id like to know if the actual replacement part is available. Thanks for any help!
Paul from SWISCO responded:

October 15, 2013

I'd be happy to help you find a replacement for this hardware. Could I see a few pictures first? That will help put us on the right track. Thanks!
A home owner from Ohio says:
October 15, 2013
Here are two photos - the closeup shows one of the posts. Note the threading where it sticks out inside the frame. The second photo shows the post an the entire top of the screen. Note that the second post is sheared off.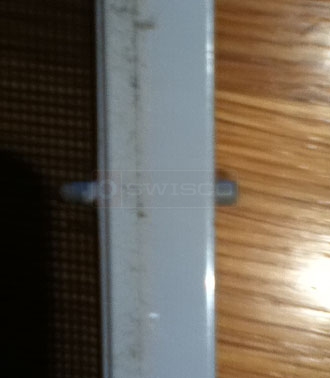 Tom from SWISCO responded:

October 16, 2013

Thank you. This is a part known as a plunger pin. I'm not sure what you have exactly, but check out our

selection of plunger pin hardware

and see if we carry anything that is a match. Make sure to match up the style and dimensions we show for each part as closely as you can with your own hardware.
A home owner from Ohio says:
October 17, 2013
No, these posts aren't plunger pins. The screen does use plunger pins (searching for those is what led me to your site in the first place) but they're near the bottom of the screen. The part I'm really looking for is just a plastic post with a threaded bottom that would allow me to secure the posts into the frame... there's no cap or spring like the plungers have.
Tom from SWISCO responded:

October 17, 2013

If yours isn't a plunger, could it be something like our

70-195

? If not, then I would have to see it removed from the window entirely.