Taking off old awning window crank
A home owner from Ottawa, Canada says:
May 24, 2011
Hi,
I am about to order a replacement awning window crank (your part number
39-037
) but it is not clear to me how to remove the old one. Does the part come with installation instructions (from which I could work backwards) that includes pictures?
Thanks in advance,
Andrew
p.s. Very happy to find you. The window was made by a manufacturer no longer independently in business (Dashwood Industries)and I was despairing of finding replacement hardware for the handle I just broke have.
Dave Sr. from SWISCO responded:

May 24, 2011

The installation screws for the operator are most likely hidden below the wood trim sill cover on the window. So if you cannot see the screws, you will need to remove the wood trim sill cover (be careful not to damage the trim when you remove it).

Also, the operator has a clip bracket that attaches to the window sash itself. You can 'un-clip' this bracket with a screw driver.

If you get stuck, send us some pictures of your progress and we will try to walk you through it.
A home owner from Toronto, Canada says:
June 5, 2012
Hello, I'm also trying to remove an old lever. The old one broke, so I can replace the whole operator. I have removed the two screws that were attached to the outside of the window frame. But I can't for the life of me figure out where the clip bracket is that you said can be un-clipped with a screwdriver. Once I find that, does the whole thing just slide out? Please can you help! I'm attaching a photo. Thanks!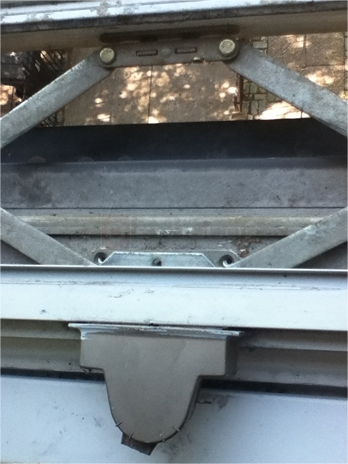 Dave Sr. from SWISCO responded:

June 6, 2012

Thanks for posting! Looking at your photo, I can see the locking tab. It is on the right hand side of the sash clip. Place a screw driver between the tab and sash bracket. As you put pressure on the tab, swing it toward you. This should unlock the operator end from the sash bracket. After that, the operator end should lift off the sash bracket. You will have to remove the sill cover to get to the operator installation screws.