Trying to find replacement balance boxes for old Pella Windows
A handy person from Rhode Island says:
August 23, 2010
Hello, folks at Swisco, My husband and I own a Cape Cod-style house that was built in the late 1960s. It has double-hung Pella windows throughout, installed when the house was built. The windows still are in good condition, but the strings from the overhead balance boxes that allow the windows to be raised and lowered have all broken on the lower sashes. We would like to replace the two balance boxes in each window frame and get the windows working correctly again. We have 12 windows that need to be refurbished. A Pella technician recently visited our home and showed us how to access the boxes; however he said the boxes no longer are made and cannot be replaced. He told us it was dangerous to attempt to restring the boxes ourselves as the spring could uncoil and jump out striking the repair person. He also said we had #1047 balance boxes. Your coil balances look to me to be the kind of spring in the old "Pella" box, but I have no understanding of how to install them in the box or if that's what needs to be done. Is there some way we can make up new boxes from parts you offer for sale? Do you have a reference link as to how to go about doing the work. We're asking for some guidance here as I'm not finding enough info on your web site. Thanks in advance, Carol
Dave Sr. from SWISCO responded:

August 23, 2010

Some Pella parts are difficult, if not impossible, to replace. We will do the best we can to assist you. Please send us pictures of your window and these balances you have in it with your best measurements. We can't be sure our balances will be the correct replacement parts, but we will see if we can help.
A handy person from Warren, RI says:
August 23, 2010
Below are pix and measurements of the balances as requested. We do appreciate your effort to help us. Carol

A handy person from Newton, MA says:
September 19, 2010
Hello, I came across this thread and I have precisely identical problem as this person. The balance boxes look the same as mine. I am wondering if it is possible to find replacements for these.
Mike from SWISCO responded:

September 21, 2010

We may be able to help you find a replacement. What is the product number printed on the box?
A handy person from Ohio says:
September 26, 2010
I have the same issue. My windows are not open so I can't see the part number but my local Pella dealer tells me I need Pella 6-41 for a 32/24/24 window and 10-47 for 32/24/36 windows. Can you get these or make a replacement?
A contractor from Malvern, PA says:
October 26, 2010
I have a customer with the same problem as those posted to your discussion board; replacement balancers for Pella double hung windows from 1969. The numbers on the balancer are 3 10-47 5. The balancer is 7.5"x2" and the visable glass size is 39x22.75. Wood single pane windows with removable interior storm window They also need replacement box balances for six other windows (same style) installed at the same time with visable glass 27.5 x 19. Any hope in finding suitable replacments? Thanks,
Paul Sr. from SWISCO responded:

October 27, 2010

I spoke directly with someone at Pella and they report that Pella no longer manufactures the Pella box balancer. As of now there is no substitute for the Pella balance box.
A home owner from fort wayne, INDIANA says:
February 28, 2011
i HAVE THE EXACT SAME WINDOWS AND HAVE THE SAME PROBLEM....MY NUMBER ON THE BALANCE SAY 6 41 AND THEN A LITTLE 67 i CAN NOT FIND THEM ANYWHERE AND I LOVE MY WINDOWS I HAVE 6 FRONTS THAT NEED REPLACED. IS THERE ANYWAY TO OPEN UP THE BALANCES AND JUST REATTACH A STRING?
A handy person from Newton, ma says:
March 1, 2011
I have posted to this thread some months ago. Since then I have rebuilt all of my boxes.
Here are the steps on how to repair the box:

Step 1. You will have to contact Pella to obtain the original cord. I got like 100 feet of it only six month ago. It is available, but they actually have to go and cut it off a huge reel.

Step 2. Place the box on the side, use a small strong screwdriver and several times whack the riveted tabs on the side where the cover is. The goal is to smear, or slightly break off, the portion of the metal that has been punched in manufacturing to hold the cover on the coil shafts. This will greatly aid cover removal without bending it.

Step 3. Slide a larger long flat-head screwdriver deep under the cover without bending the cover (it is OKif it temporarily deforms). Lever it off the coil shafts, slowly twist and snap the cover off each coil shaft.

Step 4. If you have both pieces of the snapped cord you know your replacement cord length. It is good to have at least one coil that is still tensioned to see what it should look like wound up. If you do not, see my picture. To wind a new cord, route it through the channel and wind one or two loops as you can. Pull the cord that you have just wound through the channel to wind the spring and. Hold the spring with a thumb and wind another one or two loops. About 5-10 min of this and you are done. Use safety glasses in case you are not confident with your skills.

Step 5. I used a socket, about 16mm I think. Place the assembly case down on a hard surface, place the cover on. Place the socket on top of the cover to cover the top of the coil shaft and give it one whack. The cover should snap on the case. Do the same for the second coil shaft. File the coils shaft slightly if needed.

Step 6. Use Quick JB Weld on top of the cover at the coil shaft riveting points to secure the cover on permanently. Mix properly! You want it to hold well.
A home owner from Orange City, IA says:
August 14, 2011
I have the same problem with broken ropes on the Pella double hung windows. My question is how do you remove the balance boxes? I can remove the sashes, the plastic guides on the sides, a board covering the balance boxes at the top of the window, but the balance boxes are jammed in tightly. The handy person from Warren, RI got them out. Any advice would be helpful.
A handy person from Warren, RI says:
August 15, 2011
First, thank you to the handy person from Newton, MA, for the tips on rebuilding the boxes. Haven't tried it yet, but have it on to-do list.

The boxes are glued in at the top, so you have to pry to break the top bond. Then, they fall out . . . or did for us.
A contractor from Florida says:
August 24, 2011
I am a retired Pella contractor. I have two sets of 647 and one set of 1047 vintage Pella spring balance boxes. New. If interested, they will be on ebay in the next few days.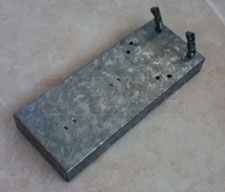 A home owner from girard, oh says:
October 13, 2011
Would like to have directions to replace Pella balance boxes using Primeline, if you'd be so kind.
Thanks!
A handy person from Narberth, Pa. says:
November 25, 2011
Thankypou, handy person from Newton, MA. We tried for years to have pella fix our windows. However, they wanted close to 300 dollars a window. And now they don't even have the balance boxes.

Well, my son got the cord from Pella, and with your directions, fixed our windows.You are wonderful. Thankyou, thankyou and thankyou
A quick learner from wrentham says:
January 23, 2012
How did you remove the sashes?


A home owner from monsey, ny says:
July 11, 2013
I have a pella porch door with the shade inside. The shade is broken and pella says I need to replace the whole glass to accommodate the new shades (new ones are called uncorded and i need the corded) anyone have any idea where I might find the old corded shades?? thanks
A quick learner from Indianapolis says:
July 14, 2013
I called Pella to get the cord but got a big run around. They said a technician would call me back, but that never happened. Is there some other place to get the cord?
A quick learner from Moscow, PA says:
November 24, 2013
With all of he replies on this topic, does anyone have a sketch or instructions to remove the balance boxed for repair? The header board appears to be held in place by the side channels. Before I destroy something, can anyone offer a sketch/instructions for step by step removal?

I sincerely appreciate any help on this topic.

I am pretty handy, but I do not want to break parts I cannot replace.

THANK YOU