Unidentified Alenco Channel Balance
A landlord from Denver, Colorado says:
September 17, 2013
This for an Alenco single hung window. Date of construction is 1984. The length of the metal "channel" is 28 1/16". While it is 9/16 wide I understand you call this a 1/2" channel. The number 27 B is stamped on the shoe end of the channel. I need the entire channel mechanism, not just the shoes as foe some reason one channel is missing. Let me know if you need additional information or photos. Thanks for your help.
My name is Mike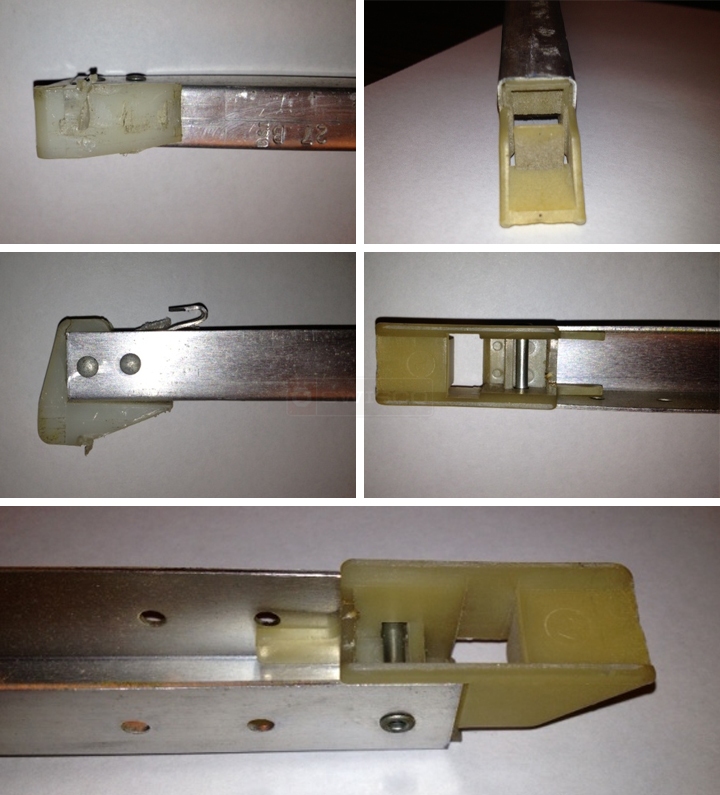 Tom from SWISCO responded:

September 17, 2013

Hey, thanks for posting. I've narrowed this down to two possible channel balance Series: either our

Series 351

or our

Series 390

balances.

Now, as you can see, there is only one difference between these two Series, and that is their bottom shoe. The

Series 351

uses the

15-002

while the

Series 390

uses the

15-001

. I can't quite tell what you have based on your pictures, though. Please carefully compare their dimensions to your own hardware and see which is a better match.
A quick learner from Denver says:
September 18, 2013
Tom,
Did you see my response of yesterday where I indicated the distance of the
15-001
was correct, but my shoe does not appear to have "wings" on it?
Tom from SWISCO responded:

September 19, 2013

I'm sorry, I did not see that question. It may not have gone through.

Are you referring to how your shoe is solid while ours has ridges? I don't think that will matter, as long as the dimensions are otherwise identical.