Unsure of stamp option on metal channel balance
A quick learner from Arlington, Tx says:
June 27, 2016
The metal channel of my balance measures 33" long but my stamp shows 32 9. That's right 32 9. No zero in how it is shown.
so do I order one that is 33 inches long (metal channel length) at 3210, or one that is 32 inches long?

And what option number?

3210? or something else?
Tom from SWISCO responded:

June 28, 2016

Thank you for posting, may we see the balance nylon ends and clip attached to the cord to better assist you. Also, do you know the sash weight?
A quick learner from Arlington, Tx says:
June 28, 2016
I do not know the sash weight. additional pictures attached.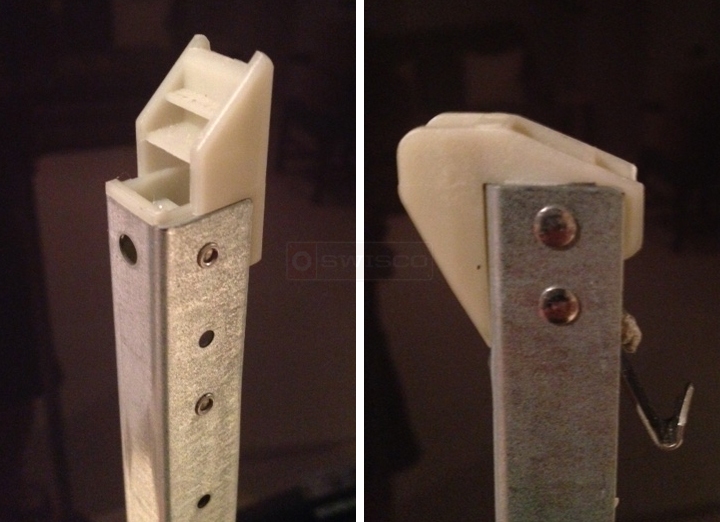 Tom from SWISCO responded:

June 30, 2016

Thank you. This looks like our

Series 390

channel balance, based on the pictures. I'm afraid we will need to know the weight of the sash in order to recommend the best option. Yours ends in 9, which is a rating system no longer used by modern manufacturers. One of our standard options could still work, but I will need to know the sash weight to confirm which.
A quick learner from Arlington, TX says:
July 6, 2016
It is not worth my time to determine the exact sash weight (unless you have a more compelling reason). The sash is about 35" by 41" and is a white vinyl double pane window. If I were to guess, without removing it from the frame, I would say that it is approximately 15-20 lbs, but I really don't know. You guys are in the window business, and should have a much better idea of the sash weight based on the original balance part/descriptor numbers and the specific size and description of the sash. Please provide a recommendation for what you would do, and we will purchase.
Tom from SWISCO responded:

July 8, 2016

The exact sash weight is very important. If your balance is too weak, it won't hold the sash up. If it's too strong, you won't be able to close it. We do not recommend estimating the weight of your sash, as being even a couple pounds off can lead to having a balance that doesn't work properly. Our philosophy is that it's better to be safe than to be sorry.

Like I mentioned, your stamp uses an old rating system that is no longer in use in the industry. That's not to say that one of our stamp options can't work, but I cannot confirm which one is the best option. The manufacturer who made your balance changed how they calibrate their springs and so we have no reference for your old version.

Fortunately, we have a chart on the

S390-33

store page that lists every option available for this balance and how much weight they can support. All you need to do is place your sash on a scale (any bathroom scale should do) and refer to the chart. That will tell you exactly what you need.