What balance to use?
A handy person from Rockwall, TX says:
November 13, 2013
My old 3/8" x 30" balances have red tips, yet the windows weigh 27lbs. I am not sure what balances I need. The options available in the
Series 900
balances show red carrying a sash of 10 to 22lbs, or green supporting 14 to 26lbs.
Any suggestions will be greatly appreciated. (Could the independent manufacturer of my windows possibly have used an undersized red tip to save money, instead of using the correct strength balance?)
Thanks very much!
Donna from SWISCO responded:

November 13, 2013

Can you confirm the diameter of your spiral balance's tube? Are you sure it isn't 5/8" (or 9/16", which is considered 5/8" in the trade). The reason I ask is because the red tip option for a

S600-30

can carry a window sash weight of 7 through 29 pounds.
A handy person from Rockwall, TX says:
November 14, 2013
Donna,
Thanks for your reply and suggestion. As seen in the attached photo, the balance for the 27lb windows are indeed, 3/8" diameter. They are red tipped. I think it would be prudent of me to go to the
S600-30
to get a balance strong enough for the window weight. Fortunately, the window channel is big enough to accommodate the 5/8" tube. (3/4" x 1-1/4" with 3/4" opening.) (Perhaps the undersized balances are the reason many of them are failing!) Thoughts? Thanks!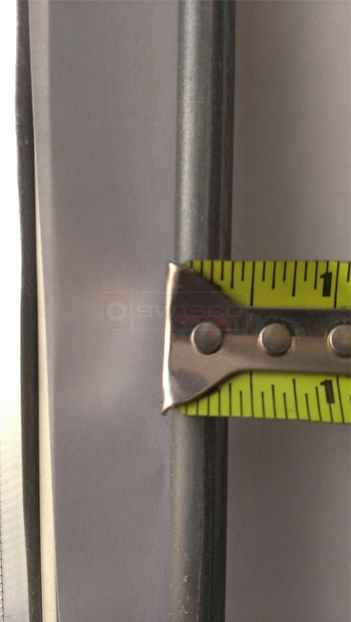 Paul from SWISCO responded:

November 18, 2013

Yes, our

S600-30

red tip balance should work with the sash weight you have. Just triple check to make sure you have the room for the 5/8" balance tube.

I think I know why you have the 3/8" balance tube now. Many manufacturers go down to the skinnier tube balance to cut down on cost. Meanwhile, some customers have told us that the

Series 600

balances have lasted 20 years for them.
A handy person from Rockwall, TX says:
November 19, 2013
Paul,
Thank you for your suggestion. I will be placing my order soon, and looking forward to opening windows without a struggle! Thanks, again!