Channel Balance Replacement
A home owner says:
October 29, 2011
Balance Markings:
Balance #1 - 29.9 GW,CMC 11.
Balance #2 - 29.9 DW,CMC 10.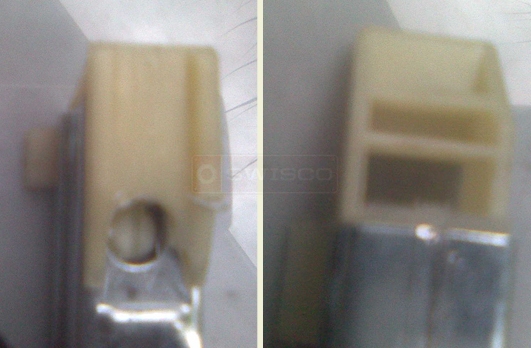 Mike from SWISCO responded:

October 31, 2011

Thank you for posting. Before I can recommend a balance, I will need a little more info.

First, I would ask that you please measure just the metal channel portion of each of your balances. Also, if at all possible, take a profile picture of the bottom attachment. I'm still a little unclear as to what it might be.

If it would help, please take a look at this chart and refer to your bottom attachment. Let us know if it matches one of these options; if not, please tell us, and we can work from there.
A quick learner from FLORIDA says:
November 2, 2011
Thanks for your timely reponse.
The length of both balances is 30".
15-005 is the attachment.
Attached are additional pictures of the balances
and sash guide.
The sash guide resembles the Norandex 18-161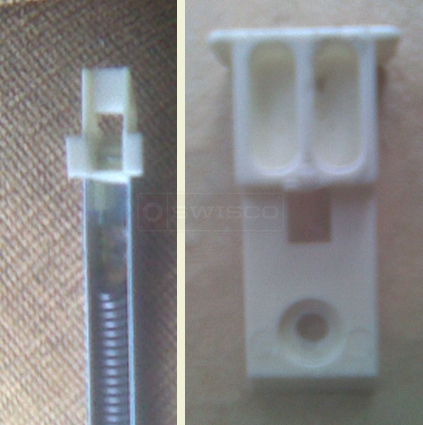 Paul from SWISCO responded:

November 3, 2011

The top is our

19-005

Winged Channel balance Top, and you picked the

15-005

Winged Channel balance Shoe, so it will be

S380-30

. Your top sash guide is, indeed, a

18-161

Noradnex Top Sash Gide.

However, we will need the weight of your sash to get you the proper spring, because the 2990 option is a custom balance.

To weigh your sash, please remove it and place it on a scale.
A quick learner from florida says:
November 28, 2011
Thanks for your reply,
The window with the markings 29.9 GW, CMC 11
weighs 29 LBS.
The other 29.9 DW,CMC 10
weighs 30 LBS.
Your
15-005
measures 1", mine measures 15/16".
Does this matter?
Donna from SWISCO responded:

November 28, 2011

Hello,
I do not believe the 1/16" difference in the shoe depth will cause a problem, if it is too tight you could sand or file the shoes down a little.

Choose stamp option 2950.
30" Series 380 with stamp option 2950 will carry a window sash weight range of 28 through and including 32 pounds.

This information is based on 2 balances per sash. Balances are designed assuming friction in the jamb weather-strip will carry a portion of the sash weight. Suggested sash weights are approximate.