Window Parts - Unknown Manufacturer
A home owner from Mass says:
July 19, 2012
I have double hung windows in my house and the part that connects the window to the pivot on the frame is snapping. I have no idea who manufactures these windows. This has recently become bad as now both sides of the kitchen window have snapped and we are using a board to keep the window open. I have attached a photo of the snapped part and the bottom of a window where the part is still attached. Any help would be so appreciated. Thanks!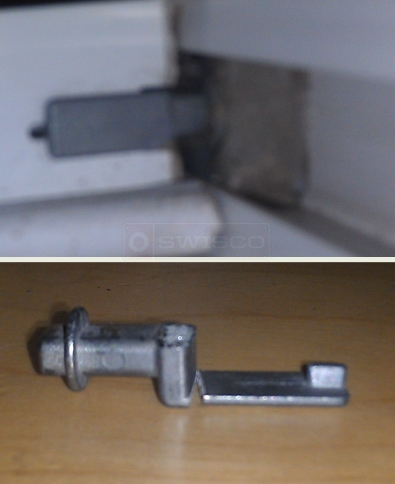 Tom from SWISCO responded:

July 20, 2012

Good afternoon! Thank you for posting in our discussion board. Hopefully we can find these pivot bars for you!

Before I can suggest anything, though, can you first give me this part's dimensions? Also, I know that you said both of your pins are cracked, but is there any pin that is still at least together that we could see? Perhaps seeing one that is relatively undamaged will help our search. Let me know!
A quick learner from Mass says:
July 20, 2012
I can get you the dimensions, but as for a part that is whole, I would have to pry one out of a window, as they are pretty much in the window, and I don't want to risk snapping another. The top picture is actually the bottom of the wimdow with the piece in.
Do you need just length for demension?
Tom from SWISCO responded:

July 20, 2012

Yes, length should be good for now. A quick question, though: Based on your bottom picture, it almost looks like there was another part of this pivot bar that had snapped off at the top. Can you confirm?
A quick learner from mass says:
July 20, 2012
There may have been another part inside the window...I took 2 pictures of the part in the window of one that is still attached. Another picture is the housing part. It measures about 1 1/4 inches tips to tip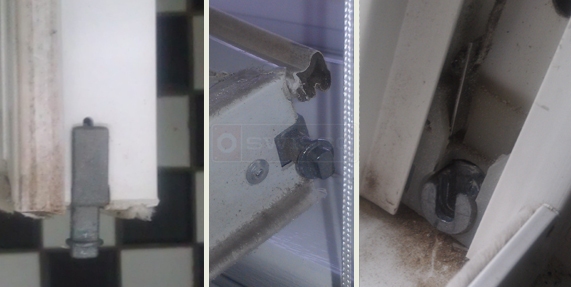 Tom from SWISCO responded:

July 26, 2012

Thank you for your continued patience in this matter. Unfortunately, I do not believe that this pivot bar is available. I do not even think it's meant to be removed. It looks like it has an top crossbar that goes inside the window sash, and is then riveted in. That's probably why they're breaking when you take them out.

The only thing I can suggest would be our

26-326

. You might be able to put it in the vacant slot left by fully removing one of your current pivot bars, then drilling the needed screw holes. However, that's just my best guess. I can't guarantee that it would work.