Window Replacement Parts Order Numbers
A home owner from Naples Florida says:
November 7, 2011

We have single pane windows that are extremely difficult to open and some of them have broken and no longer raise due to the channel bars being stuck in the up position. I think the builder may have installed the windows with springs that were meant for double paned windows, instead of our single paned windows. Our windows are the 1/2" channel balances series 380. I would appreciate it if you could tell me the item numbers for the channel balances listed below. I looked for the stamp on the metal but only found the code on the balance as listed below in blue ink.

Room Dimension Weight in Pounds Code on Balance
Kitchen 37" x 33.5" 21.5 34 4 FX CMC 11
37" x 50" 34.5 34 9 AX CMC 1
Den 32"x 33.5" 16 29 3 FX CMC 7
Living 32" x 33.5" 16 29 3 FX CMC 7
Bdrms 32"x 50" 27 29 9 FX CMC 7
32"x50" 27 34 4 FX CMC 11


Thank you for your assistance. I look forward to your responce.



A home owner from Naples Florida says:
November 7, 2011
My windows are single glass thick. They use 1/2" channel balances. Some of my windows are missing these little plastic pieces, and when missing it allows the windows to wiggle a little bit. I am unsure what they are called. But there is 4 of them per window. They are only on the bottom half of the window that opens and closes. They are on the top left, top right, lower left and lower right. They look as if they just snap in. Please let me know the name of them and the item part number for ordering purposes. I have attached 3 pics.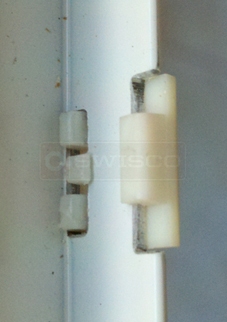 Dave Sr. from SWISCO responded:

November 9, 2011

Take a look at the

Face Guide Section

of our balances catalogue. I think yours might be the

67-026

Snap-in Face Guide. Compare that to your sample and see what you think.