Window will not stay up.
A contractor from Fort Myers says:
May 7, 2015
Hi we have a 53"w x 62 3/4" h series 2000 single hung impact window. Window will not stay up, loose string on side. Shot balance probably. What size balance would you need for this window? Kinda a heavy window. Is there a heavy duty balance for this window?

Window was purchased in 2009 through Pro Build in Fort Myers.

thanks.

Tim.
Tom from SWISCO responded:

May 8, 2015

Hey, Tim. Is there any way we can see a few pictures of your existing balances? I'm not sure what type you have. Can you also confirm the weight of the sash? That will let us know exactly what strength spring you will require. If it's heavier than usual, I'd rather not guess. Let's start with this information and work from there.
A contractor from Fort Myers says:
May 11, 2015
Thanks for the reply. I have added some photos of the balance that I removed on Saturday.
I am guess the lower window sash weighs about 50 lbs, possible more. The window is impact glass for southwest florida. It is heavy.
The second photo I show is what I think is the main failure point. The attachment screw at the top end of the balance gave way. These are aluminum frame windows. The screw is too small for the tension in the balance.
In other photos you can see the bending of the top part of the balance. I think there is a bully of some sort that was attached to this screw, could be wrong. But it was in a position it could start bending and it just never lasted.
Of all the windows in the house, this is the one used most often and it did not take long for it to break. Hopefully the new part has a better attachment method.
The balance appears to be about 28 inches long. I would also like to replace the pivots at the bottom since I would have the window out. Thanks.
Tim.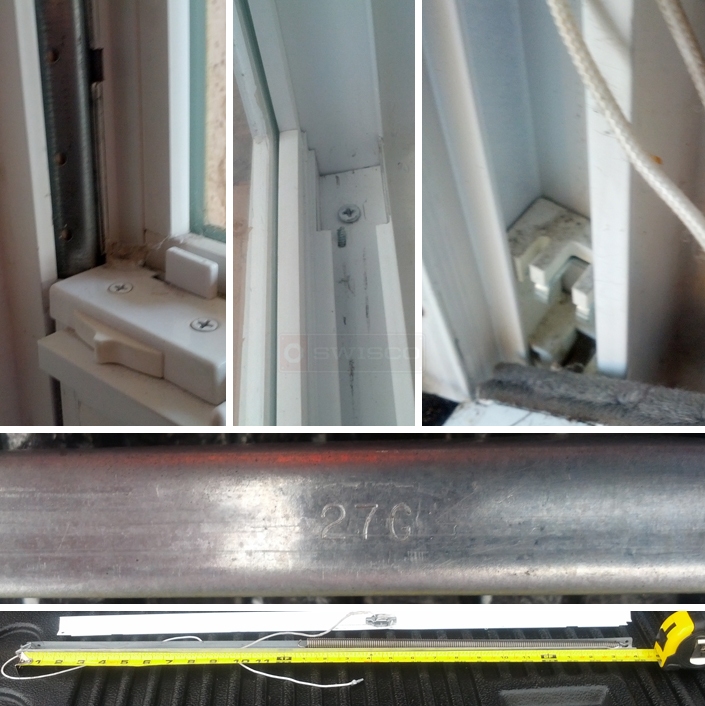 Paul from SWISCO responded:

May 12, 2015

Thanks for posting. Based on your pictures, I think our

S770-28

channel balance is a possible match. Check it out and see if you agree.

You may want to confirm the weight of your sash though. 50 pounds is extraordinarily heavy, even for impact glass windows. Your current spring rating is "27C," which can carry a window sash weight of 18 through 23 pounds. Since your windows cannot stay up, I would wager that this is too weak, but I think 50 pounds may be over-estimating. I highly recommend that you weigh your sash on a scale to confirm.
A quick learner says:
May 12, 2015
Thanks for the response. The stamp on the metal is 27G not 27C. Double checked. Looks like the balance is a match, just need to confirm the sash weight. Little worried about taking it out until I have the new balances and shoes. Also, expecting that I may break one, which is the correct shoe for this window.

Thanks.
Paul from SWISCO responded:

May 12, 2015

Aha, that makes more sense. A 27G version of this balance can carry a sash that weighs 36 through 40 pounds. That seems more reasonable for the kind of windows you have. It's possible they just wore down with age, then. This kind of balance has a lifespan of roughly 5-10 years.

If you want, we can custom make this for you. Check out this

Custom Channel Balance Request Form

I've started for you based on your specifications and fill out the blank fields. One of our representatives will get back to you with a price quote and an item to add to your cart. That said, I highly recommend confirming your sash weight, just in case.