Wool pile installation
A home owner from Toronato, Ontario says:
February 3, 2015
I purchased your
58-002
wool pile.
In your video "How to identify replacement weatherstripping" - (when you were showing how to take measurement of a sample piece) it showed the backing as material/textile and not plastic/vinyl.
With material/textile it can be installed by inserting one side in and rolling it in on other side.
However, it does not work with the plastic/vinyl backing.
How can I install this or can you recommend a different product.
A home owner from Toronato, Ontario says:
February 3, 2015
Hi,
I am attaching few pictures here and the size of the
window is 21.1/4 x 22.3/8 and the material fabric
Thanks
David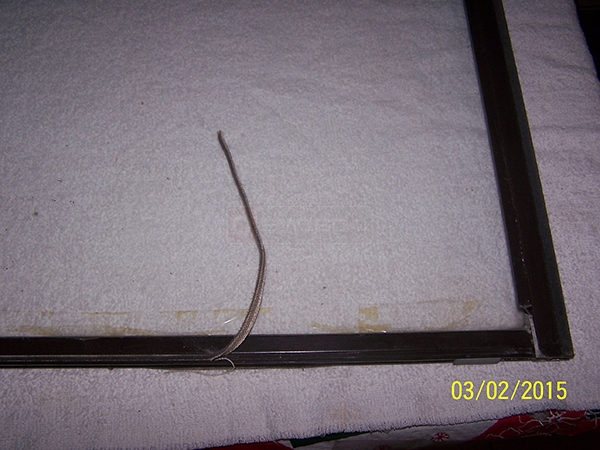 Tom from SWISCO responded:

February 5, 2015

Hey, David. For most windows, you can install wool pile by sliding it in from the end of the channel. If your channels are sealed, though, then you could try the same method you described, but by using a putty knife to press the other side in. Otherwise, you may need to make a cut out in the channel so that you can slide it in as normal.
A quick learner from Toronato, Ontario says:
February 5, 2015
Hi Tom. One thing I'd like to bring to your attention is that the Wool Pile Picture shown in your website is of woven type, which I have attached herewith.
But the one shipped to me is hard plastic backing, which is hard to press it in as it is not flexible to bend. But I think if it was of woven type it would be flexible to press it in.
Do you carry the woven type as shown in your website, or even textile material type as shown in your video where you explain how to take measurement.

Thanks again
David
Tom from SWISCO responded:

February 5, 2015

I'm afraid we do not sell cloth wool pile. I don't believe cloth wool pile is even made anymore, since it always deteriorated quickly. The plastic used for the base of our

58-002

just has a kind of cross-hatch pattern to it, which may be why you thought it appeared to be made of cloth. I'm sorry for the confusion! I think you just have an older window, and older hardware is harder and harder to get a hold of these days.

That said, the 58-002 could still work. If you cannot wedge it in with a putty knife, you will need to make a small cut out to accept it so that it can slide in. You could also see if taking one of the corners out will let you sneak it in there, but there is a risk of damaging the frame or glass if you're not careful.