Spiral balances for alcoa vinyl windows 1994
A handy person from greenwood In says:
June 8, 2013
My spiral balances have tube construction on top and spiral spring construction on lower half. Both are covered in in white plastic cover tube.
Length measures 28 1/2 inch. Tip color is blue. Original sash weighed 25 #. New replacement windows installed weigh 30#. OD of tube is 3/8 ".
I thought 900 series would fit but do not see blue tip. The overall length is between 28 and 29 inches. What unit would work.
Note some sash panes did not need replacing and weigh 25 #, while others weigh 30#.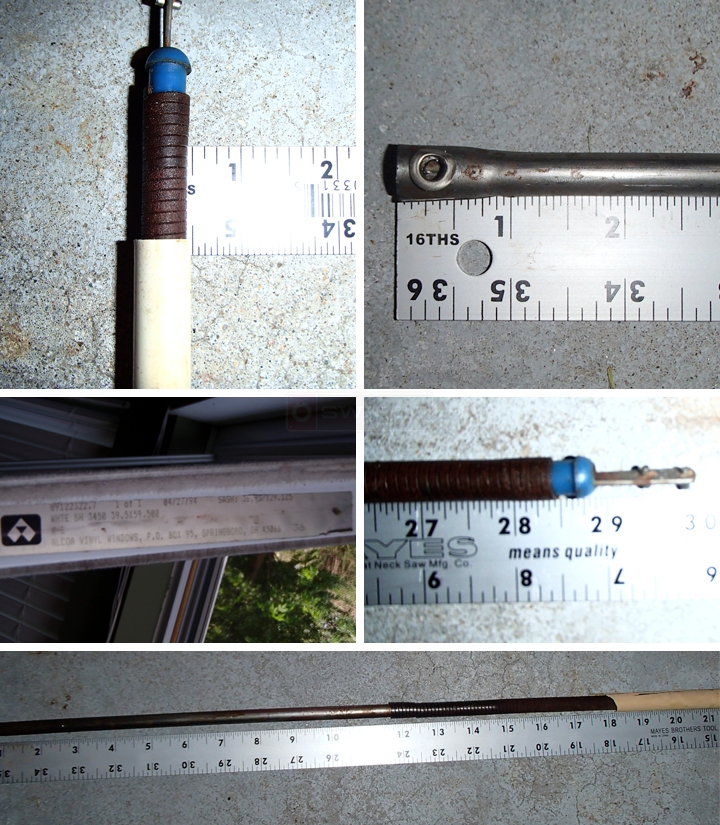 89122322.7 1 of 1 04/27/94 SASH: 36,957129.125
WHTE SH 3450 39.5X59.500
W-E
ALCOA VINYL WINDOWS, P.O. BOX 95, SPRINGBORO, OH 56066
63
Tom from SWISCO responded:

June 10, 2013

Thanks for the detailed information! Now, was your diameter based on the spring, or the plastic tube? The one you want is for the plastic tube. I'm just guessing, but I think it might be 9/16". Let me know if that's correct.

As for the length, that would also just be based on the outer tube. Can you confirm? It would probably be best to measure a balance whose outer tube is not damaged. The reason I ask is because these balances usually don't have a length that measures on the half inch. I just want to make sure.
A handy person from greenwood In says:
June 10, 2013
The inside diameter of the white plastic sleeve is 0.515 Inch. The OD of the plastic sleeve is 0.540 inch. (0.25" wall thickness). The opening of the window track is also 0.50 inch. The overall length of the white plastic sleeve is 29 inches. Thanks Tom. Ken
Tom from SWISCO responded:

June 11, 2013

Great! In that case, I think you're looking at our

S600-29

spiral balance. Take a look and let me know what you think.