balance springs
A handy person from new york says:
December 18, 2012
Hope you can help me and the pictures come out,the pictures show 2 sizes 1.25" and 1.0" bottoms,the top is the same size on both,the number on the case is 4240 and are 43" long. I don't know why there are 2 sizes(maybe left and right)and need about 44 of them.And I don't know if I need any special tools.I hope you can help me out with this.
Thanks Hal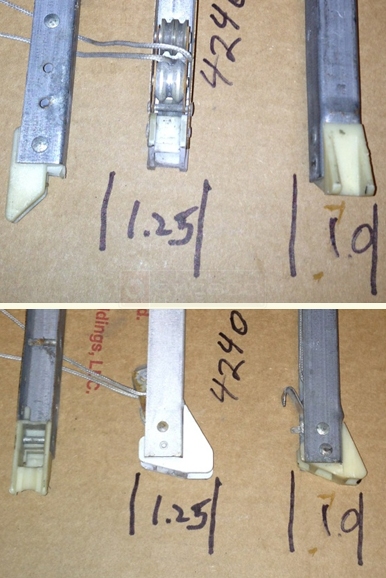 112
Tom from SWISCO responded:

January 7, 2013

Thanks for posting! Are these two balances from the same window? If so, it's odd that the balances would have two different shoe sizes. There aren't many asymmetrical channel balance systems in the industry in this style. Have you ever had trouble opening and closing the window? Did it feel like something was grinding against the jam when it was opened?

I'd like you to confirm a few measurements before I suggest a replacement Series. First, can you confirm the depth of the shoe whose depth measures 1.25"? We do not have a shoe with such a depth. The closest I could think of is our

15-001

, whose depth is 1-1/8".

Can you also weigh the sash itself for me? This balance will have to be custom made, since 43" is not a standard length, and I just want to make sure that we are getting the right strength for you.
A handy person from new york says:
January 8, 2013
it looks like the smaller shoes are from the bottom window and the larger (1 3/16")are for the top window.

The window weighs 24lbs. and is 43" wide but some windows are 41" wide.

The lenght of the balance housing is 43". I would probably only do the bottom windows. I found the balances all over the building, so I don't know which windows they are from.

Please let me know about how much they will cost with the small shoe and I will talk to my boss for the ok.

Thanks
Hal
Tom from SWISCO responded:

January 8, 2013

Thank you. Take a look at this

Custom Channel Balance Order Form

that I have started for you and fill out the rest of the information. One of our representatives will get in contact with you shortly thereafter.