crank operator
A quick learner from New Jersey says:
May 24, 2016
I can't get the crank to detach. Dont have a tool to get underneath seems to be 2 scews under the bottom of the part that the handle gets attached to. There isn't enough space because of the window sill. Is there a special tool that I have to get that would fit underneath.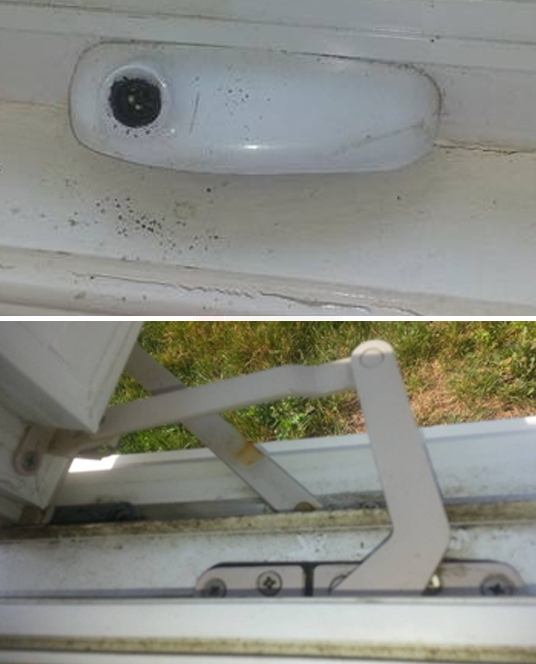 Tom from SWISCO responded:

May 26, 2016

There is no special tool. If you're unable to detach the operator arm from the bracket, try unscrewing the bracket from the sash. It looks like you can get at it from the side.
A quick learner from New Jersey says:
May 26, 2016
I was able to detach the operator from the outside (picture 1) but cant get it to detach from the inside (picture 2) because of the screws on the bottom of it that I cant get at because of the sill. Tried a bunch of hex screws but cant get under it. Also what part do I need to replace the one I have if I ever get it detached.
Tom from SWISCO responded:

May 27, 2016

Oh, I see. Sorry for the confusion. I thought you meant you were having trouble removing it from the sash, not the sill. The only way to get at those screws is to remove the sill cover. As for the operator itself, our

39-171

and

39-172

appear to be good matches, assuming the dimensions match up.

Removing vinyl sill covers can be tricky. Looking at your first photo you sent, it looks like there is a seam on the bottom of the sill cover. That mean it might be one that snaps in place. Take a small screw driver or chisel and try to pry it up at one end and see if you have any luck. You just have to be more careful that you don't crack or damage the plastic on the frame. If you are not comfortable doing this then I recommend hiring a handy person to come out and do it for you.
A quick learner from New Jersey says:
June 4, 2016
I was finally able to get the operator off. The part I have now is Roto OP05-7508. I think it is your part #
39-325
. The measurements are 4 1/2 inches handle cover, 3 1/2 inches screw plate and 7 1/2 inches measure length. Let me know if that is correct please. Thank you.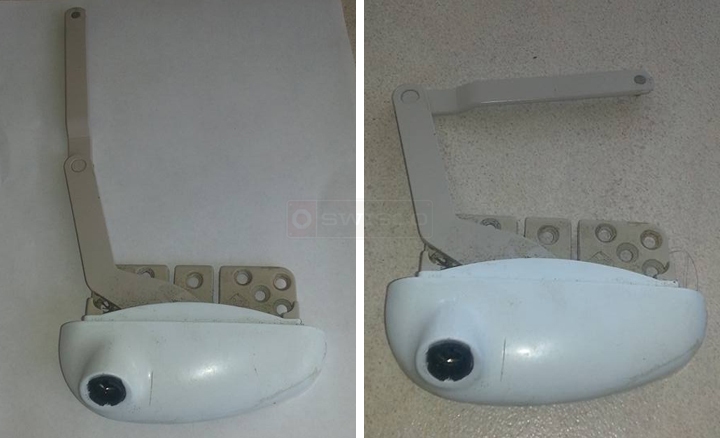 Tom from SWISCO responded:

June 7, 2016

Ah, perfect. I agree, the

39-325

appears to be a great match.