how to install sliding screen corner insert 95-020
A home owner says:
June 12, 2012
Hello, can you please tell me how to remove the old broken patio sliding screen corner insert (which was plastic) and install the new metal one. I examine the frame and found no clue how i may remove the plastic corner insert. No screw, no indent, no whatsoever
Dave Sr. from SWISCO responded:

June 13, 2012
A home owner from CO says:
June 13, 2012
Thanks Dave. No,
95-214
does not look like the corner inside the frame. I found an image in the discussion board that looks like my corner insert though the roller is different from that in the image. However my roller is exactly the same as your
84-016
. Again, what is the precedure to remove and install the corner? Many thanks.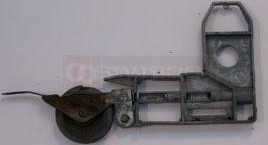 Dave Sr. from SWISCO responded:

June 14, 2012

Well, if your corner is plastic, it might be glued in. If it is, removing it may be tricky. That said, without seeing your own, I can't be sure. Can you upload a few pictures of your corner? Can I see how it's installed? Once I see how it's in there to begin with, I can help you take it out!
A quick learner from Roseville, CA says:
September 29, 2012
Hi Dave,
I have the same question. Mine is plastic. Is is possible to remove if it is glued in?

Dave Sr. from SWISCO responded:

October 1, 2012

Thanks for posting! Try using a little heat, like a heat gun or hair dryer. A little lacquer thinner or denatured alcohol might also work. Check to see if the corners are pinched in the edges of the patio door, as well. If so, they will have to be drilled out--or, if it is a screw, you will have to remove it.