jalousie window crank (operator!) hardware
A home owner from West Orange, NJ says:
November 23, 2014
Hello reader(s)!
(I believe that) the corkscrew part is broken off. It looks like I have to drill out the (rusted) (non-nut) part in #4, correct? [Why does this have a philips-head-screw-looking thing, then?] Then the new/replacement hardware comes with the bottom piece (that the two upright pieces get attached to) (?). Is that piece (of which model [flush on bottom; only one screw on top] that you sell?) (like a rivet, on one side, and then) able to receive that lock-washer-nut-device? What measurements (other data) do I need (to provide you)?
Thanks for all your helpful information/suggestions!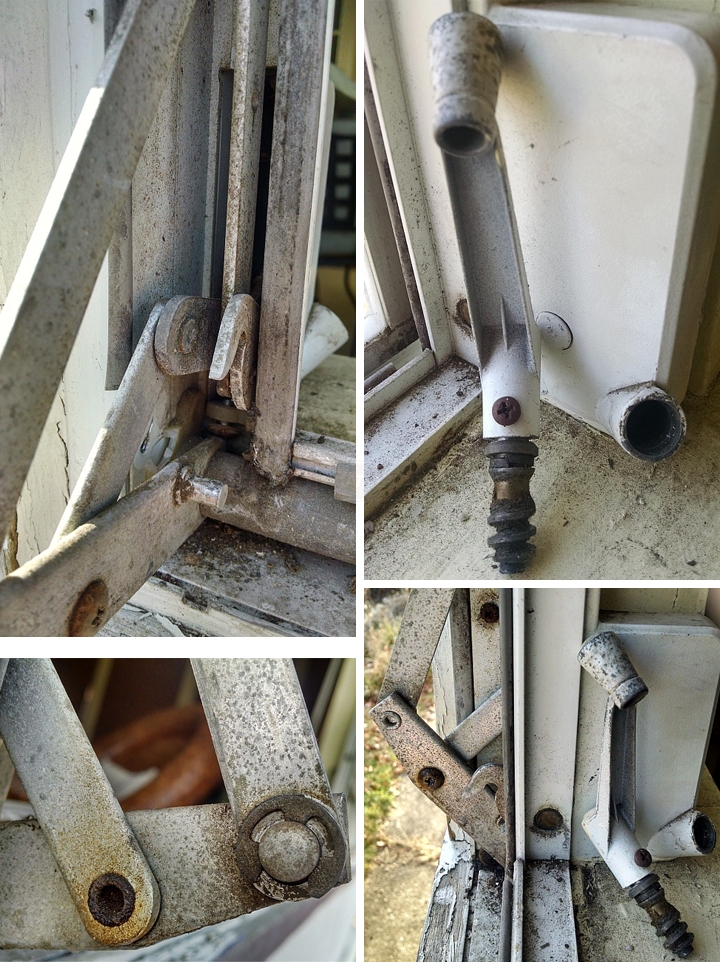 A friend from West Orange, NJ says:
November 24, 2014
Oh, so I found/watched one of your videos (screen-shot attached). I don't have to deal with the connectors in two places--only the first (rusty in my photo) one (not the one with the spring-lock-washer-like device)!
But again/still: I have to drill out the connector? And replace it with what (that won't open with movement?)?
And how do I determine which of your replacement parts to order--I can't find it online?
Thanks again!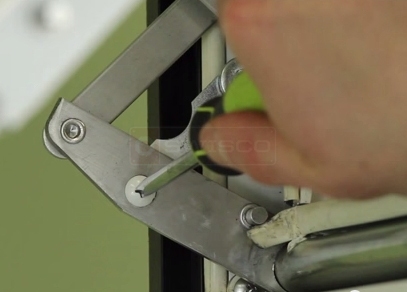 A quick learner from West Orange, NJ says:
November 24, 2014
(While I wait, here) where do (should) I look for (what kind of) markings, so as to help determine manufacturer/model/age/etc.?
Dave Sr. from SWISCO responded:

November 26, 2014

Thanks for posting. Yes, your operator gears are stripped so the whole thing has to be replaced. It looks like our

39-025

, but the only way to know for sure is to remove it from the window so that you can carefully compare our dimensions to your own hardware. I also believe that the rusted phillips head screw shown in in the fourth photo of your first post will have to be taken out to remove the operator from the window, along with the screws in the casing. You probably don't need to drill, just try a type of liquid wrench of WD-40. You may not have to take off the "e" ring clip, but I could be wrong. Try just removing the screw first. We also have a video on how to remove this kind of operator.