latch/keeper hardware for stall door
A friend from Cleveland, OH says:
March 21, 2012
I am a volunteer at my church and I am trying to get our dilapidated restrooms back in shape. One bathroom has a single stall with no hardware to close and latch the door. I have searched on-line and have been able to locate a few latches that could work, but have been unable to find a strike and keeper.
The bathroom was probably installed in the 1950's. The manufacturer name on the hinges is Mills. I checked the door hardware in another bathroom in the church, however, I was unable to see any manufacturer markings on the latches or strike/keepers.
There are holes where the previous hardware was attached (no one knows what happened to it!) and the goal is to use those holes and not drill any more if we don't have to.
Door: hollow metal, 1" thick, rounded edge, inswing
Two holes for latch: 1/4" holes, 1-7/8" apart center to center, set back 1-3/4" from door edge to center of hole
Pilaster: hollow metal, 1-1/4" thick, rounded edge
Two holes for keeper: 1/4" holes, 1-5/8" apart center to center, set back 1-1/4" from pilaster edge to center of hole
The horizontal measurement from the latch holes to the keeper holes is 3 1/8" center to center, allowing 1/8" for spacing and for the rounded edge on the door and the pilaster.
I have attached photos from a stall with all the hardware and the exact same measurements for the parts I need to buy: 1 latch with 2 fasteners and 1 strike & keeper with 2 fasteners (one strike/keeper, or 1 strike and 1 keeper as separate parts). The hardware in my photos appears to be stainless steel with Phillips-head mated fasteners.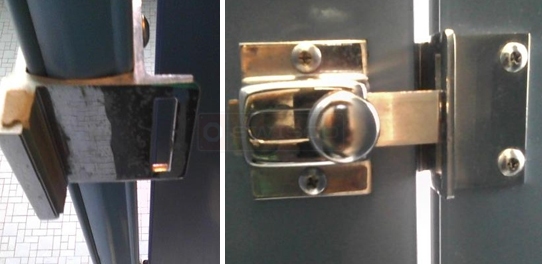 Dave Sr. from SWISCO responded:

April 26, 2012

Thank you for your patience in this matter. After extensive research, we have been unable to find a replacement for your bathroom door latch that is quite as long as yours is.

However, please take a look at our

10-401

and

10-402

inswing and outswing door latch repair kits. Do you think that either of these may work for you? Please compare to your hardware and see what you think.

You may also want to see our

10-516

stainless steel slide latch, but you may have to redrill the holes in your door in order to get it to fit.