looking for Hope replacement crank and arm
A handy person from Bethesda, Maryland says:
June 22, 2015
Greetings: I need to replace four Hope window cranks and arms (the teeth are stripped). The original part number is R. H. 5564. The screw holes are 4 1/8" apart. So far, so good, right -- because that would seem to match up with your
39-354
.
But there are two issues: First, the length of the arm is not 9" but 14". Second the disk at the end of the arm that slides into the bracket has a diameter of 10/16", not 9/16".
So I have three questions: 1) Do you have a replacement model with a 14" arm? 2) If I use the 9" arm, does it just mean that my window won't open as widely but will otherwise still be usable? 3) is the 1/16" difference in diameter a nonstarter?
For $25, I'm willing to experiment, but wanted to hear what you folks had to say first. Thanks very much.
Tom from SWISCO responded:

June 23, 2015

Could you show us a few pictures of the operator itself removed from the window? That will help us find a good match for you.
A quick learner from Bethesda, Maryland says:
June 23, 2015
for TOM:
See pix of Hope's hardware that I'm trying to replace. thanks, jg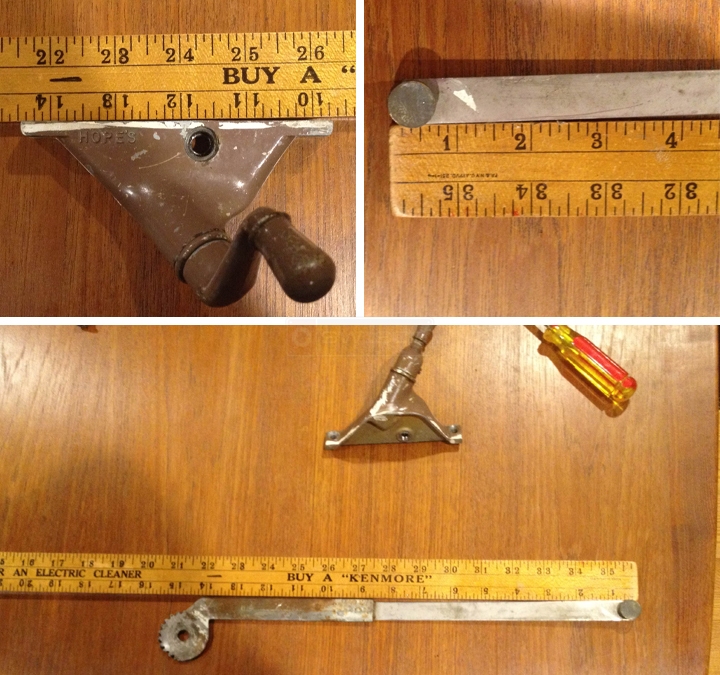 Dave Sr. from SWISCO responded:

June 26, 2015

Thank you! Yes, usually we recommend the newer

39-353

and

39-354

for this operator. Those long arms concern me though. It almost looks like they were altered at one point. I don't think it was made to look like that.

If you use our

39-353

and

39-354

still, the window might not open as far. If that is a problem then the only thing I can think of is seeing if you could alter those arms in the same way. I'm afraid we do not have a match for this exact operator, though. Sorry we can't offer a better solution! If you can contact the original installers of the window, they may be able to explain why they altered your operator arms to begin with.