old Sliding glass door roller
A home owner from florida says:
March 12, 2014
US Pat # D/M 3137028
A/S 3097401
I looked up on your site but the other people's photos dont look the same.. their part # was
81-258
.. but mine doesnt have an adjusment screw or a pivot... and the arms are longer...
thanks joi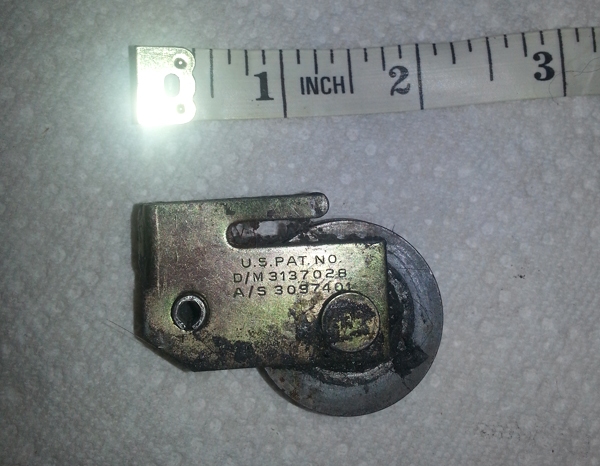 Paul from SWISCO responded:

March 13, 2014

Hey, Joi. This is just the inside portion of a roller, not the whole part, but it looks very similar to the inside portion of our

81-258

. Check inside your door for the outer housing and see if this roller is a match.
A professional from California says:
March 13, 2014
The corner bracket should still be in your door.
Remove the screws holding the bottom rail on.
Tap the bottom rail off.
Gently pull the rail apart enough to release the clips on the bracket.
Pivot straight up until the bracket falls or pulls out.
The new bracket prongs go into the slots you will see in the rail.
Pivot back down until the clips lock in place.
Screw the rail back on.
A quick learner says:
March 13, 2014
The only screw from the outside holds on the outer edge of door.. (that holds the glass in/and the handle is on. Ill take it off the track again and take a pic.. but I looked inside to clean and didnt see anything..
How do you explain the prongs (located closest to the measuring tape), being longer than the ones in part
81-258
?
Tom from SWISCO responded:

March 14, 2014

I don't necessarily think they are. At least, I don't think any difference in size will be enough to matter. Again, I highly recommend you remove the door from the track and look for the outer housing. I think it is very likely that your door has the outer housing still installed, because I do not know how else the pictured roller would attach without it.

If the outer housing is still installed, we will need to see it removed and combined with the inner roller portion. Seeing it still installed might not be enough.
A professional from California says:
March 14, 2014
The screw that holds the door together goes into the hole you see on the
81-258
outer
corner-bracket/housing. The bracket is locked into place by the prongs at the top and the clips on the bottom.
The prongs that you are talking about on the inner part in your picture, act like springs to reduce rattle. They are not meant to lock into anything.
The prongs on the outer housing lock into the rail.