pivot shoes replacement question
A quick learner from madison,wi says:
September 4, 2013
Hi, Your video for how to remove window pivot shoes is helpful. I have an American Craftsman/Anderson 8500 replacement window. I need to replace 2 pivot shoes because the white plastic casing of the shoes have cracked. Your video showed how to remove it by using the jam spreaders, it didn't show how to remove the spring that is attached to the shoe. There is a lot of tension on the shoe - I don't know how to remove the attached spring. Could you please let me know? the pivot shoes I have in the window looks almost identical to the one in your video (with the blue turning thing - please see photo).
Next question, even though the casing of the shoes cracked, it seems still functional. is it mandatory to replace them? I don't have any info because I don't know how the balance system is constructed. Attached please find a photo of the cracked shoe. Thank you. -Kris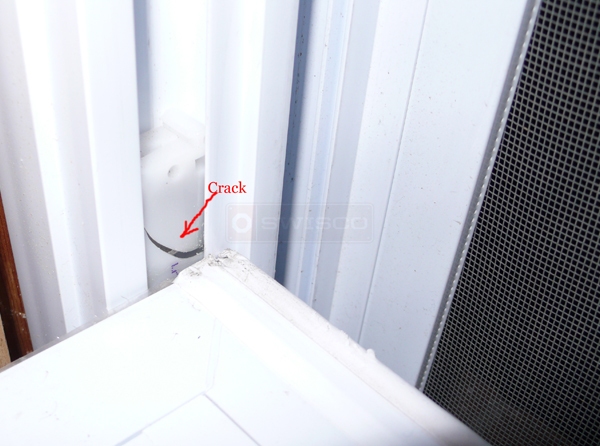 Tom from SWISCO responded:

September 6, 2013

We actually have a separate video that details how to remove a coil spring. Check it out below.

Furthermore, if your housing is cracked, you probably should replace it, yes.
A quick learner from madison,wi says:
September 17, 2013
Trying to install the pivot shoes on replacement vinyl window. The manufacture sent the parts and recommended to cut the jamb so I can take the broken shoes out and put new one in. Will it weaken the structure of the window frame? Manufacture also mentioned using heat gun to open up the jamb - I don' t like the idea. I like your jamb spreader. Unfortunately, it 's not cost effective because I only need to repair one window - the new one only costs $150. Wish I could rent the jamb spreader, but nowhere to be found.
thank you
Tom from SWISCO responded:

September 17, 2013

Cutting the jamb is a viable option, sure. You just have to be careful not to cut yourself. We do not recommend a heat gun unless there are absolutely no other options available at all. Heat guns can damage the jamb permanently if you aren't careful.