Replacement 28" channel balance
A handy person from florida says:
December 16, 2011
Looks like I need some 28" Series 770 Balance assemblies but don't know which ones. Currently have in there now. Windows are Milestone series 1000. Sash is approx. 30" x 50" with insulated glass. I'm hoping you have cross reference charts so I don't have to go back to the house to weigh the sash. The length is definitely 28" even though it has 27 in the number stamped on it.
Paul from SWISCO responded:

December 21, 2011

Thanks for posting on our discussion board. Does your balance have a letter after the #27? If so, we should be able to determine the stamp option you need from that. If not, we will most likely require the weight of your sash.
A handy person from florida says:
December 21, 2011
Sorry, I should have proofread before I submitted. Balancers are stamped
Unique 27-F-60.
Paul from SWISCO responded:

December 21, 2011

Thank you for the information. That is a peculiar stamp for the S770-28; to confirm that that is indeed the balance you have, can you please take a few pictures of the ends of your balance? That would help us identify what option you would need as well as the appropriate series.
A handy person from florida says:
December 21, 2011
Here's some pics. Notice how the top attachment point is squashed. I probably lacks the plastic spacer shown in your unit.
I will also need some tilt latch/lock units as pictured. Those are 1 1/8" w on left side by 5" long. It is a combo tilt latch and window lock in one piece.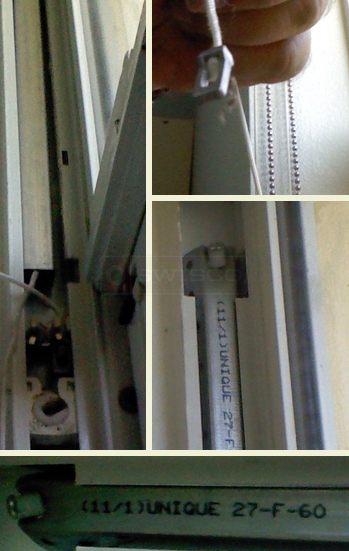 There are no attachments, they are attached to window frame at top by a screw going through the hole where the metal is all bent as shown in my pics. There was no spacer there (as shown in your pic of the model 770) to prevent the metal from getting squashed as the screw was tightened (the screws also got bent because of this).
Mike from SWISCO responded:

January 5, 2012

Thank you for submitting your pictures.

We will need to get the weight of your window sash in order to identify your proper spring. Please remove your window and place it on scale and report to us its weight in pounds.
A handy person from Fl. says:
January 5, 2012
My e-mail of Jan 3 included the weight of the sash.It's 35 lbs.
Donna from SWISCO responded:

January 10, 2012

35 pound sash, sorry we missed it in the email you sent.

We just added stamp option 28F online for you.

The 28" Series 770 with stamp 28F will carry a window sash weight range of 32 through and including 36 pounds

This information is based on 2 balances per sash. Balances are designed assuming friction in the jamb weather-strip will carry a portion of the sash weight. Suggested sash weights are approximate.