replacement balances 29 6 HS Caldwel
A contractor from Tampa, FL says:
April 18, 2011
I have windows that need new channel (block and tackle) balances. Our local window parts place is apparently no longer in business, and I would like to see if you can help with replacement balances.
They are marked as "29 6 HS Caldwell," are 1/2" channel that is 30" overall length, and the (non-tilt) sash weight is 37 pounds. Both have bad plastic pulleys in the block and tackel assembly. I will include photos of the top and shoe to see if you have a replacement balance to match. Unless you have the pulley assembly?
Thanks,
Craig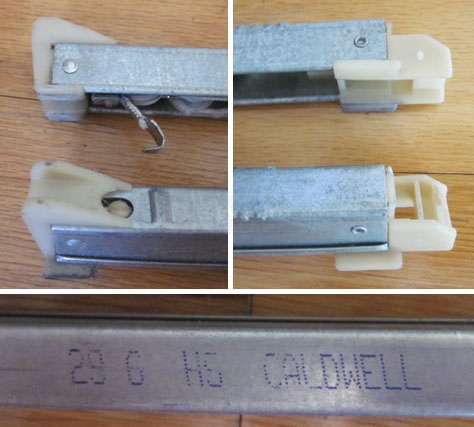 Paul from SWISCO responded:

April 19, 2011

Thanks for submitting your photos, Craig.

We believe we have identified your balance attachments as the

19-005 Winged Channel Balance Top

and the

15-004 Balance Shoe

.

As for your balance stamp of "29 6", this stamp denotes the balance supports a sash weight of up to 35 lbs. Make sure your sash weight of 37 lbs. is accurate, as we will want to be sure the balance replacements will serve as adequate replacements.
A contractor from Tampa, FL says:
April 20, 2011
Paul, I double-checked the scale (it is a mechanical balance-beam scale that does "zero" out correctly) and it was still set at just over 36-3/4 pounds.

These windows are at my personal home and I can tell you that the sashes on these two have always felt too "heavy" for the balancers. Both windows are in our children's rooms and they always have had difficulty raising the sashes. It would seem to me that the sash weight being beyond the capacity of the balancers could be the cause of that. The lower sash is approx 50"w x 33" high with insulated glass (two panes).

I will wait to see what balancers you believe will be the best replacements. If you determine that the balancers should be up-sized, I should get two pairs and take care of the second window at the same time.

Thanks, Craig
Donna from SWISCO responded:

April 21, 2011

Hi Craig,
That is a heavy sash.

I will email you a custom ordering link for the following, (4 each) S385-30 channel balance with 19-005 and 15-004 attached with stamp number 2965, this will carry a sash load of 35 through 39 pounds.

This information is based on 2 balances per sash. Balances are designed assuming friction in the jamb weather-strip will carry a portion of the sash weight. Suggested sash weights are approximate.